Probably the most important part of any business setting is its employees. Irrespective of what age group an employee might belong to, or the department, they deserve the right to take time off. It is the basic right of an employee to take leaves. This starts with managing leave and putting the applicable leave policies in place which the right leave management system can achieve efficiently. 
In today's blog post, we will cover:
What is Leave?
Leave management in an organization is all about making sure that the company honors this basic right for all employees, in a manner that does not affect day-to-day operations.
Managing employee leaves, therefore, is an important practice in HR. As one would imagine, it is extremely difficult to process everything on paper manually, or on excel sheets and emails. It may cause errors, loss of productivity loss, management mishaps, and much more.
In short, leave implies taking time off from work. Leaves are provided to employees by their organizations that can be paid or unpaid. We have come a long way since there were no paid time-offs to now where employees are entitled to different paid leaves and public holidays.
Paid leave is offered as a benefit by different organizations and is the second most preferred benefit after healthcare.
All countries have labor laws that entitle different leaves to employees all over the year for different causes. 
Mostly, earned leave balance is carried forward every year till the time the employee is working in the same organization.
Item

Quantity

Remarks

Annual / Privileged / Earned Leave

15 days

After 12 months of continuous service

5 days

After 4 months of continuous service

Casual Leave

12 days

Sick leave or casual leave, both combined

1 day

After one month of continuous service

Sick Leave

12 days

Sick leave or casual leave, both combined

1 day

After one month of continuous service

Maximum AL/PL that can be carried forward

45 days





Working hours in a day

9

 

Total hours per week

48

 

Rest interval

30 minutes

Rest after 5 hours of work
How Do You Manage Employee Leave?
Managing employee leave can be a nightmare for the HR department if the process for the same is not efficient enough. However, this can be resolved with some tips listed here.
Use a Leave Management Software, with easy access to Leave Management Dashboard

Map out a clear leave policy for your company

Inform and guide your employees about their leave policies and laws

Set a notice period for employees

Integrate employee leave management with payroll

Be empathetic with your employee
What is the Leave Balance Policy?
As can be seen from the term, "Leave Balance" refers to the remaining number of leaves out of the approved leave quota of an employee. That is to say, it reflects the current status of leave balances, for instance, sick leave, casual leave or parental leave in the leave management dashboard of the employee. As a result, employees get a clear picture of the number, as well as, the types of leaves that have already been utilized and the ones remaining. Thus, the employees can pay heed to the current scenario of leave balance in their respective attendance management systems easily. 
What Do You Mean By Leave Management?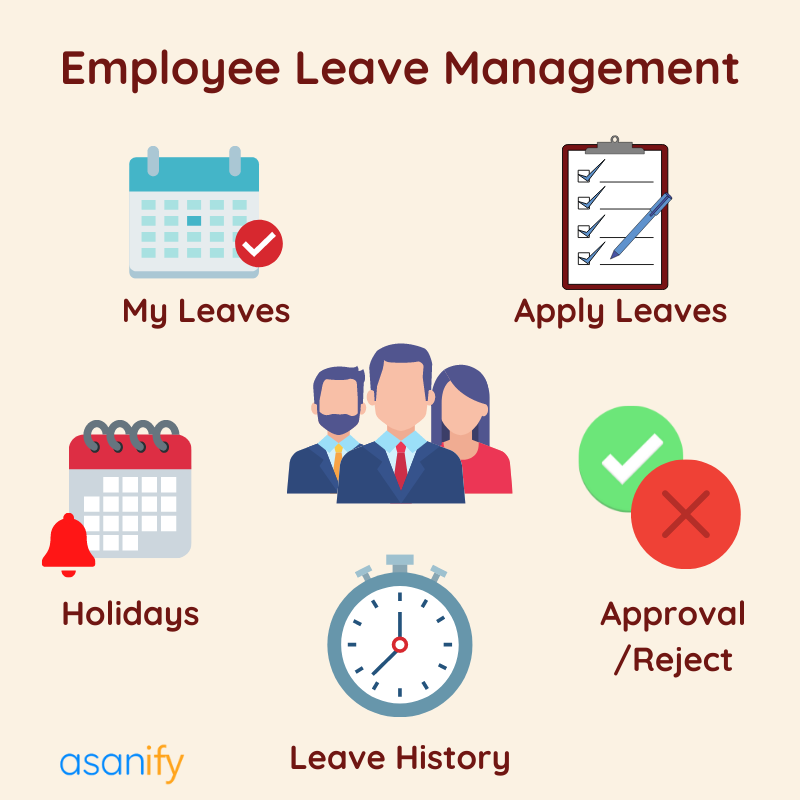 Leave management is a process that involves regulating leaves for an employee. It starts with the application stage for leave, involves the creation of the right policies and processes for approval/rejection while ensuring sufficient staffing to run the daily business operations. Moreover, it also includes managing and reviewing the leave policies for your organization, under labor laws.
As mentioned earlier, it is the right of every employee to take time off from work. Therefore, the end goal of Leave Management is to ensure these time-offs are carried out in a fair, accurate, and legal way so that the business always runs smoothly. So, it is one of the most important processes requiring regulation, as a part of HR.
While small businesses may find it handy to work, update and regulate leaves in the Excel sheet, emails, or any other source, the problem starts when it leads to issues such as errors in calculation, payroll errors, and non- compliance with labor laws.
Who is Responsible for Leave Management?
Managing employee leave is a core HR activity. As a result, it is a must for every organization to handle the leave requests of their employees. 
Defining leave policies is a one-time activity. However, enforcing them is a long term job for HR. Here is the list of activities that an HR admin needs to handle as part of talking care of employee leave:
Leave Accounting;

Granting Leaves to employees;

Handling Employee query;

Monthly Payroll;

Reporting;

Year-End Activities
Employee Leave Management
Automating end-to-end employee leave management with the help of leave management software can help you manage the entire process with ease.
Through automation, you can ease out many of the challenges for your human resources department.
Some of these are – ensuring labor law compliance, and easing out the workflow by preventing leave approval issues, employee disagreements, and conflicts. With automation, you can integrate Loss of Pay (LOP) leaves with payroll.
You can also take leave encashment into consideration for final processing if there is any.
You can build a custom online leave management system

Configure each step of the approval workflow

Create digital forms and work efficiently without errors

Send (automated) notifications to both parties to avoid any confusion or conflict

Connect forms with a custom database so that you can fetch them anytime

Customize your leave policies 
What is the Difference Between Leave, Attendance, and Timesheet Management?
| | | | |
| --- | --- | --- | --- |
| Parameters | Leave Management | Attendance Management | Timesheet Management |
| Aim  | To monitor the leave management of employees | To ensure the disbursal of fair payment to the employees | To monitor work done by the employees and measure their productivity  |
| About | It contains, under its purview, leaves of all types | It includes a mixture of leaves, holidays, absent days, and timesheet details | It lays out how the employees spend their working hours  |
| Frequency of Management | Whenever the requirement is felt  | End of every month  | Regularly  |
Leave Management in HR
Administration may get into a lot of trouble and productivity issues with unplanned leave management. As a result, there may be too many leaves being taken by too many employees, and the leave dates may often clash with each other.
As a first step, organizations must maintain a simple record of leaves taken by all the employees, in order to maintain proper operational efficiency month by month.
It does not stop here, though. There are some crucial reasons that make it a must for every organization to establish a proper leave management system. Firstly, it is the law. Secondly, it saves the HR significant hours, that would otherwise have been invested in taking care of the employee's leaves manually. Moreover, it aids in giving a boost to employee productivity and morale. Further, the integration of the process of leave management in HRMS contributes towards minimizing errors and saving costs. In fact, employers can easily access a detailed analysis of the reports for the assessment. 
Process of Leave Management
Leave Management involves processes such as-
Attendance integration: 
Capturing attendance regularly through the software to remove the report, which can process payroll at the end of the month.
Leave application:
Employees need to fill in an application in order to take time off. If managed manually, then they need to fill in the form, otherwise, they can submit it seamlessly through application or software.
Leave tracking: 
Once they submit the application, it goes to the HR department who checks the employee's leave balance to check his eligibility and forwards the application to HOD. The leave management system automates this entire process.
Attendance regularization: 
When an employee is working from home, an automatic update to attendance and automation of the leave application process is possible.
Managing weekdays and holidays: 
Planning holidays in advance, make a fixed period of holidays and set a priority list to avoid conflicts so that your workforce can adapt in advance.
Leave encashment:
Calculation of leave encashment is based on the number of leaves that an employee has not utilized. In case of leaving the company or at the time of retiring, automation of leave encashment can be done efficiently via the leave management software.
Importance of a Well Planned Leave Management system
Companies, that are growing in size, find it very difficult to manage leaves manually.
According to a survey, 93% of the companies with employees size 40 or more outsource or automate their leave management. Even at this size and scale, it is more costly and time-consuming, if done manually through paperwork and emails.
Efficient leave management can also bring some benefits to a company, here are some of them:
A more streamlined attendance and payroll process;

Better employee satisfaction and

retention

rate;

Improved communication between employees and managers;

Ensures consistency and keeps the process smooth;

Makes you better compliant with labor laws;

Error in calculation of leave and attendance drops significantly;

Enhanced employee productivity and efficiency;

Promotes the company's value;
In business, if employees are taking long and unplanned leaves, it can lead to reduced productivity and stunted business growth. Moreover, it will consume a lot of time and money.
So, it is advisable for businesses in their growth phase to deploy a good system to save all the cost and time and select the most suitable LMS that meets your requirements.
Also Read- Leave Policy for Employees: Download Expert Guided Templates
Challenges in not Having a Leave Management System in Place
Here is the catch: if you end up choosing a software for managing leave that is incompetent and does not meet your requirements, you will face certain challenges:
Low employee productivity – If you are managing leaves manually or through Excel sheets, your employees stay uninformed of their leave balance. It may cause employees to take too many leaves, which can increase the burden on other employees. Further, this may lead to burnout and other long-term effects.
Poor customer service – If one of your star performers is on a well-deserved holiday, and you have a high ticket client project that is approaching its deadline – this poor timesheet management can cause customer dissatisfaction.
Legal complications – Tracking leave requests through emails and Excel sheets can be a time-consuming activity if you have to search for previous leave data for every employee. You may refuse a valid time-off request and end up triggering employee dissatisfaction.
Unauthorized Absenteeism – If you do not have proper leave policies in place, you may face unauthorized absences as they are not informed or educated about your policies.
Poor time-off management – This can lead to higher turnover rates, negative reputation, violations of labor law, and much more.
Errors in payroll accounting – With manual calculations, errors can occur in your payroll that will cause employee dissatisfaction, which causes low morale or even leakage in your payroll costs.
Best Practices of Leave Management 
As we now know, managing leave can be a real hassle for HR and managers without a proper system in place. It can lead to employee burnout, and dissatisfaction. Further, it can also cause legal complications. So, let's have a look at some of the best practices to avoid such issues!
Avoid rigidity in the policy
Your leave policy should be easy to implement and flexible.
Provide a help desk or Q&A
If any queries arise, clear them and promote consistency in the policy. Show commitment to supporting compliance.
Make sure you automate the whole leave management process
All-in-one leave management software allows you to customize all processes, convenience to employees, and clarity.
Evaluate the system regularly
Refine both the policies and processes regarding compliance, accuracy, transparency and employee morale.
Get outside help on legal terms and developments
Leave management is subject to regulations, so keeping yourself compliant with the laws is important. You can also use these terms to your advantage, as you can offer them more flexibility.
What is a Leave Management System?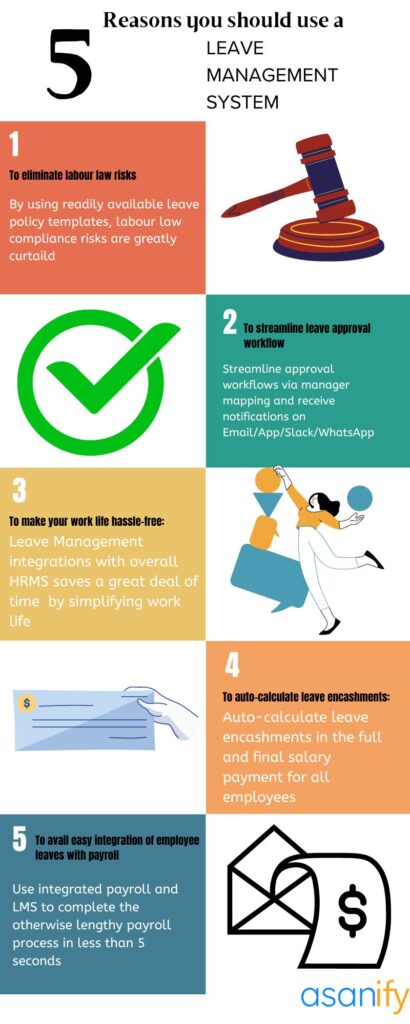 A Leave Management System enables a company to allocate, grant and track leave with ease and precision. Further, it also allows employees to request and track their own leave.
Today's software of managing leave is more often found as a web-based application because of its easy accessibility and ability to run on almost any device and operating system that has a web browser.
A leave management system provides an easy way for human resources or management to administer leave. So, it grants the HR the much-needed ability to set up a standard leave policy.
An ideal leave management system automates the entire process of leave requests within a company, thereby saving time and resources by letting employees focus on the important tasks before them. Moreover, it helps in eliminating the traditional need to record and file leave documents.
How to Automate Leave Management?
An online leave management system is a platform that automates every step of leaves i.e., applying for leaves, balance checks, approval/rejection of leaves, and reporting from anywhere or from any device. As a result, a lot of bandwidth and time is saved by ensuring that every process is one-click, whether checking for employees' past data or ensuring enough resource availability at any point in time. It keeps the company compliant with the laws, and of course, ensures that you are paying your employees on time.
Guess what? It does not stop here. Your leave management software must include other add-ons such as:
Configurable fields (leave policy, leave type, and holiday list) to easily customize the platform, as every company has a different type of policy. 
Integrated payroll management so that you can pay your employees on time and accurately. You should be able to complete the payroll process in a matter of seconds.
All-in-one dashboard where employees should be able to check their leave balance and other co-workers' time off. HR and line managers should also be able to view this data for all employees.
Timesheet and attendance management where you can track employees' productivity and pay them fairly
Analytics and reports that simplify all the budget reports showing demands, approvals, and denial of leaves, for each employee and also for the company.
Features of the Leave Management System
Cloud-based software enables supervisors to manage seamlessly. Further, it provides access to all the data in one place;

Auto-updates leave balance so that it reduces manual work and saves time;

Seamless integration with other HR management software such as payroll and timesheets which allows cross-functional reports;

Customized and flexible leave policies for all departments;

On-mobile compatibility and all-in-one dashboard so that employees can access their leave balance anywhere;

Employee self-service that removes manual work.

Improved decision-making with reports and data through analytics;
Best Leave Management Software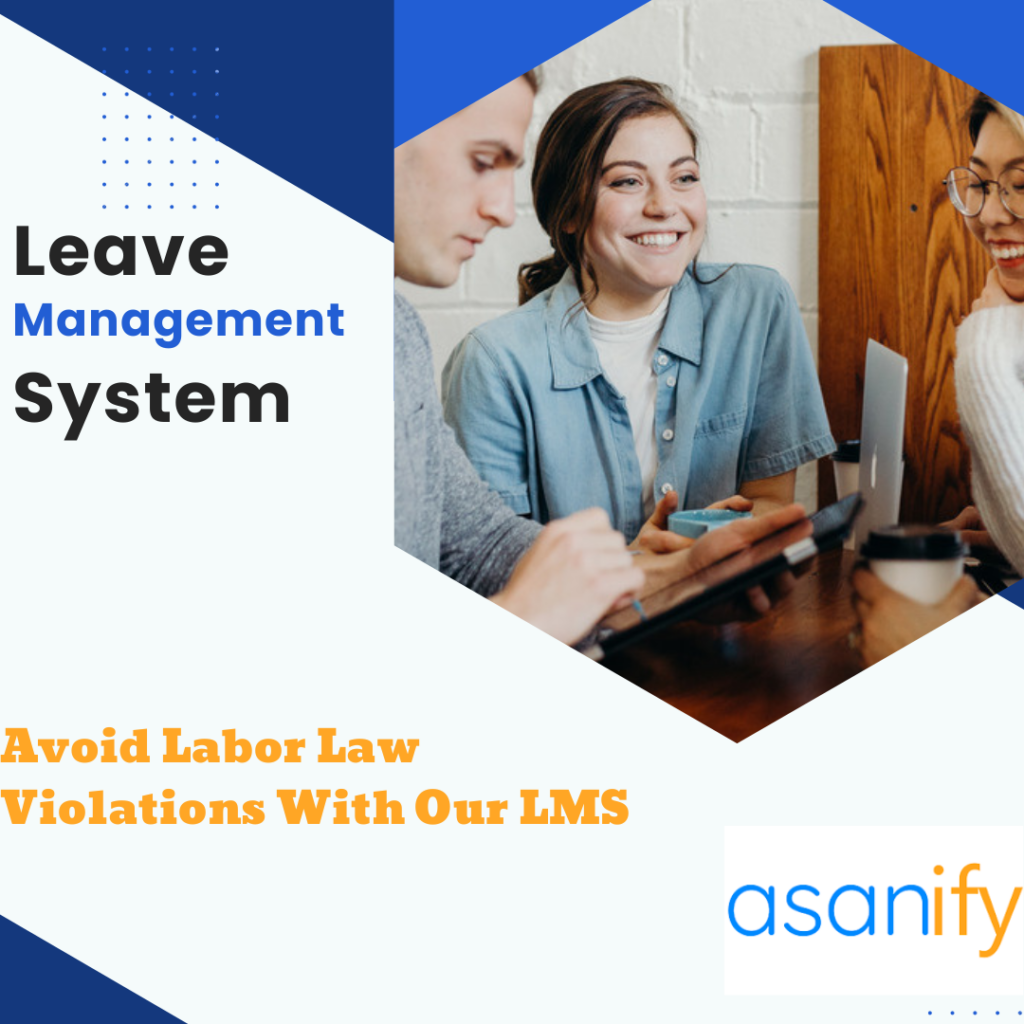 These are tough times when businesses are struggling with proper resource management.
Asanify helps companies in not only automating their end-to-end leave management but also integrating it with other HR modules such as Attendance management, time management, and employee directory.
To ensure your organization functions in strict compliance with the labor laws, you my want to check out Asanify's Leave Management System.
How to Draft Leave Management Process Flow Chart?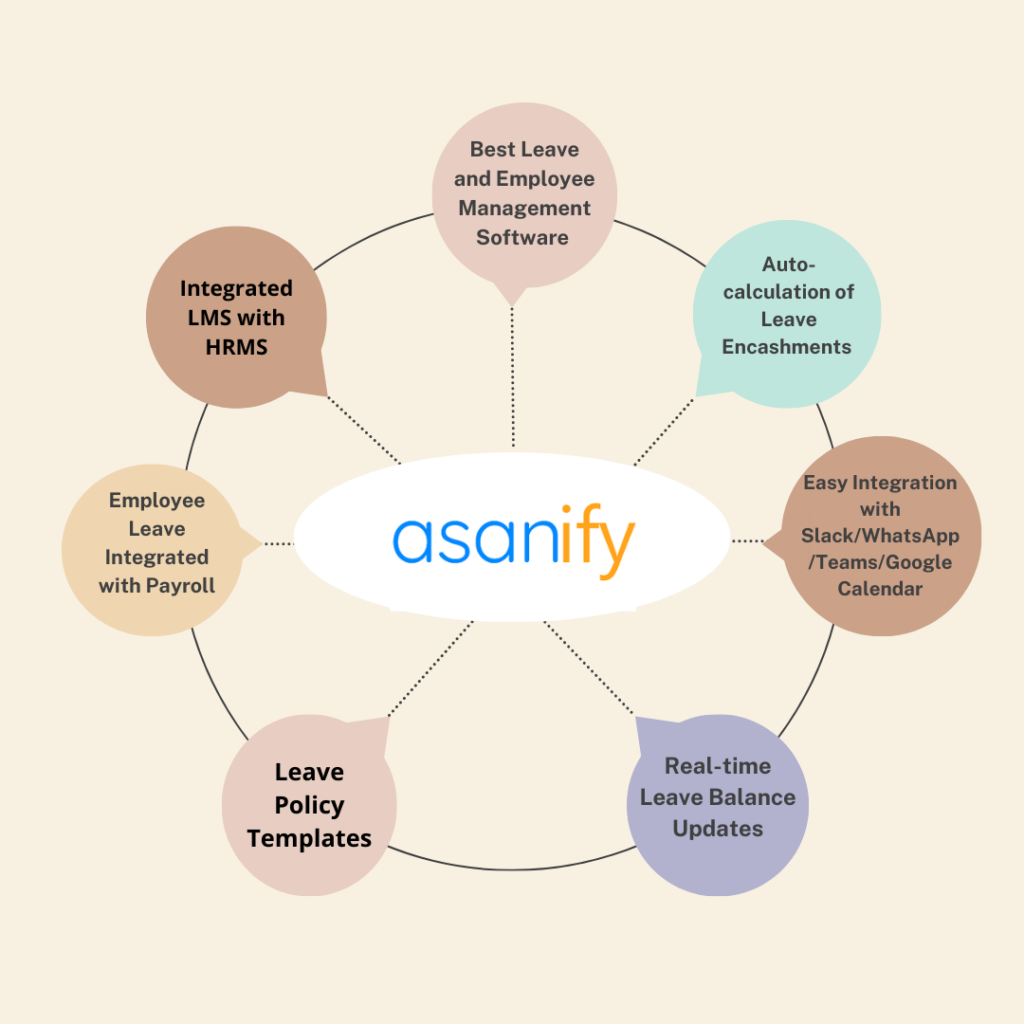 After an employee submits their leave request, the way in which the manager is going to deal with it appears to be a confusing issue. There is no definite set of guidelines as to whom the manager will be informing about the leave request of an employee. 
You can manage this efficiently by creating a leave management process flow chart. Basically, it will present a visualization of how the acceptance/rejection of a leave request works. Designing the flow chart will vary, depending upon the organization. 
In essence, this leave management process flow chart will keep the employees informed of the steps that they need to follow, for the further reviewing of their leave request by various senior team members. 
You may want to check out Asanify's leave management system to avert the task of creating a leave management process flow chart manually, and save your precious time. 
What is Leave Encashment?
Leave Encashment is basically the compensation amount that an employer offers to an employee owing to their unused paid leaves either at the time of resigning or retiring from the organization. However, several companies also offer the option of carrying forward those outstanding unused leaves to the next year and beyond. 
Among the various processes involved in the leave attendance management system, leave encashment forms an important component. You may want to simplify the process of leave encashment by checking out Asanify's Leave Management System.
To clarify in simple terms, Asanify helps you auto-calculate leave encashments in the final salary payment for all your employees, without any hassle. Owing to the easy integration of leave management in HRMS, employers can carry out this operation easily, and the employee will have access to every kind of information in their leave management dashboard. 
What is the Sandwich Rule in HR?
In the labor law context, Sandwich Rule in HR refers to sandwich leave. As you can see from the term "sandwich", it implies the positioning of something in between two items that are of same kind. 
To clarify, sandwich leave refers to an employee's taking leave of one or two days between two days that are officially not workdays. 
For example, an employee has applied leave for Friday and the coming Monday. However, the company will consider both the Saturday and the Sunday, coming in between Friday and Monday, as leave. As a result, the employee's leave balance will be debited to a greater extent because the two official day-offs would then be counted as "leaves."
Frequently Asked Questions
[saswp_tiny_multiple_faq headline-0="h2″ question-0="What is the leave policy? " answer-0="Leave policy is a set of rules and procedures that govern employees' benefit. This ensures that employees are eligible to take different paid and unpaid leaves throughout their term of employment." image-0="" count="1″ html="true"]
[saswp_tiny_multiple_faq headline-0="h2″ question-0="What is the purpose of employee leave management? " answer-0="It is useful for running a smooth organization especially when the size of an organization increases. Moreover, it helps HR teams to track records such as employee leave data, payroll, and overall performance." image-0="" count="1″ html="true"]
[saswp_tiny_multiple_faq headline-0="h2″ question-0="How does leave management help employees? " answer-0="It improves an employee's trust and morale in the company. Further, it results in greater productivity and performance." image-0="" count="1″ html="true"]
[saswp_tiny_multiple_faq headline-0="h2″ question-0="How are leaves calculated in the Leave Management System? " answer-0="The leave tracking software tracks and records employee attendance details and leaves taken throughout the period. So, in this way, the remaining leaves are calculated accordingly." image-0="" count="1″ html="true"]
[saswp_tiny_multiple_faq headline-0="h2″ question-0="Can we take leaves in notice period? " answer-0="Yes, employees can take leaves during notice period on grounds of personal/medical reasons or some emergencies. However, an employee needs to show proper proof to the manager for the same. Since approval of the leave request lies at the sole discretion of the employer, it can't be said with certainty if employees can avail leaves while serving the notice period.  " image-0="" count="1″ html="true"]
[saswp_tiny_multiple_faq headline-0="h2″ question-0="Is leave salary taxable?  " answer-0="When an employee obtains leave encashment while still being employed, that amount becomes taxable. This is because it still forms a part of their income." image-0="" count="1″ html="true"]
[saswp_tiny_multiple_faq headline-0="h2″ question-0="How do you calculate annual leave hours into days?  " answer-0="You can calculate it by following this procedure. Divide total leave hours for a particular leave category by the employee's hours per day. For example, an employee works for about 6 hours per day. In such a case, divide it by their leave balance, say, 32 hours. As a result, conversion of hours into days will be: 32/6= 5.333 days." image-0="" count="1″ html="true"]
[saswp_tiny_multiple_faq headline-0="h2″ question-0="What is a planned leave?  " answer-0="Planned leave, also known as Scheduled Time-Off, refers to the types of leaves that employers/managers have already approved of. Employees may avail this leave in case of a preordained event, duty or commitment." image-0="" count="1″ html="true"]
Not to be considered as tax, legal, financial or HR advice. Regulations change over time so please consult a lawyer, accountant  or Labour Law  expert for specific guidance.