As a startup founder, you may have come across so many software engineer roles. You may have even hired so many engineers. But have you ever hired a software tester? Have you ever written a software tester job description before? What are the factors to consider here?
But before we look at all that, let's start with the basics. Who is a software test engineer?
I have also added a software tester job description below in this blog. Click here to jump straight to it and download the sample for FREE!!
Download the software test engineer job description sample now!
Who is a software tester?
A software tester is basically an engineer who runs tests.
Seems simple right? Wrong!
Also known as test engineers, they are the people you hire when you have to run tests on your (software) product. Running tests helps you debug the product and helps you ensure that the program runs just like it's supposed to. Software testers are usually hired by SaaS or Software companies to check whether a program is running perfectly before it is released.
A software tester is responsible for planning, designing and running various tests on a piece of software throughout the program lifecycle.
What does a software test engineer job description look like?
Like we saw earlier, a software test engineer… runs tests! No surprises there.
But how exactly do they do that and what all tasks do they carry out on a daily basis? What is their major focus on?
(Note: I have given a mere summary of the daily tasks here since responsibilities are mentioned in depth in the template which you can download from here).
So, a software tester does the following.
Testing as well as proving that the software meets major requirements
Presenting test reports to management and suggesting software fixes
Making changes to the software based on testing systems for maximum performance
Is a software test engineer job description the same as that of a software engineer?
Short answer?
No!
These two are very different roles.
Long answer?
A software engineer works on developing a product. They work on researching and then coding and developing various programs or features within programs. A software engineer collects user requirements to be able to develop features using languages such as Java, C++ and so on. They also ensure scalability, accuracy as well as quality in the product they develop.
On the other hand, a software test engineer tests the same program or feature that was developed, for bugs, scalability and quality.
In simpler words, the software engineer develops the software whereas the software tester looks for ways to break the software or program.
What should you include in a Software Tester Job description?
Here's a list of things you need to add to the software tester job description. Blindly follow the list and you'll be all set to go!
You could also alternatively click on the link below and get free access to the ready-made, well-researched job description sample. All you need to do is click on the link, download the job description and it's ready to use! Yup, it really is that simple.

Be mindful to use common well-known terms as opposed to buzz words like wizard or guru. Think of the kind of terms
This is not the entire but a small summary. Keep it short. Nothing more than 2 lines to give the candidate a bird's eye view of the role.
List of job requirements of a software tester
Mention the applicant's minimum qualifications, soft skill requirements and other factors which could also be if the job requires a lot of travelling etc.
Job responsibilities of a software tester
Add day-to-day tasks, major projects and other duties
Salary should be mentioned in the software tester job description
Salary, CTC, stipend or compensation
Best channels to post a software tester job description
While posting this job description for any kind of role, you need to understand where applicants will look when they are applying for jobs. Are they looking at 3rd party job posting portals such as Linkedin or Naukri.com. Or are they looking at company career pages directly?
A little research will go a long way here in understanding which are the best options to post a software engineer job description. Lucky for you, we have done all that research and have collated a list of places you can post the JD.
So, here are some of the channels you could consider to share a software testing engineer Job Description
Job posting portals such as Glassdoor or Naukri.com etc.
Your own company/website's career page (which you can do via our very own Asanify software too! – Sign up for free and check it out)
LinkedIn is a great platform to hire employees these days
If you are considering looking for freshers (whom you might have to train when you onboard them), then you could either

Post on internship portals such as Internshala, hire interns on trial or probation and then take them on full-time if they work well
You could also get in touch with institutions that have B.tech or similar courses and hire final year students and onboard them after they have graduated
How to write a software test engineer job description – Summary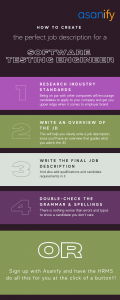 Software tester – FAQs
What is the role of a test engineer?
They evaluate the software with the help of either automated or manual tests. It is their job to ensure that a program is working the way it was intended to. They try to figure out ways to break down a software system, thus ensuring it is durable and of high quality.
What are the soft skills that software tester need?
They need the following skills
1. Analytical skills
2. Problem-solving abilities
3. Attention to detail
What technical skills do software test engineers need?
They need the following technical skills
1. Agile testing
2. Knowledge of software development life cycle
3. Testing tools and techniques
4. Troubleshooting and defect tracking
5. Project management
6. Cross browser testing
7. Programming knowledge (basic requirements)
What are the minimum required qualifications for a software test engineer?
Minimum qualifications required are
1. BSc- Bachelor of Computer Science
2. B.Tech – Bachelor of Technology
3. B.E – Bachelor of engineering
4. B.C.A (Bachelor in Computer applications
Not to be considered as tax, legal, financial or HR advice. Regulations change over time so please consult a lawyer, accountant  or Labour Law  expert for specific guidance.