So, you've treaded on the path of being an independent contractor? Perfect! No wonder the first thing hovering in your mind at the moment is to understand the way "invoice for contractors" is generated!
Being self-employed comes with its own share of responsibilities. Among the various things that you need to take care of, invoicing emerges as the most crucial aspect of your business. 
After all, ensuring a continuous cash flow in exchange for the services that you rendered for your clients is essential for your business to thrive. 
Understanding the process to write the ideal invoice template for contractors is vital. 
No, we didn't mean that you would have to literally type in all the fields for creating the perfect invoice for contract work. Asanify's free invoice generator is here to make things easier for you. 
There is no standard format for invoices to fit in owing to the varieties of industries in which contractors have established their businesses. However, it is crucial to stay aware of the various vital components that need to go into creating a perfect invoice for 1099 employees. But first, let's gain better clarity of what it exactly is and shed light on the critical importance it holds for any independent contractor. 
Contents
What is "Invoice for Contractors?"
When you take the step towards establishing your freelancing business, invoicing forms a critical part of financial accounting and management. 
To define in simple terms, an invoice is a document that independent contractors send to their clients in exchange of getting a certain job done. Contractors use this billing document to request the clients to disburse their payment they deserve. 
Contractors work in diverse industries, thereby making flexibility a core element to take into consideration while preparing the invoice forms for contractors. As a result, there is no single right way to structure the invoice for contractors.
Have you ever wondered what factors make the drafting of invoices for contractors an indispensable task? Well, it's time to check that out! 

What Factors Make the Creation of an Invoice for Contractors a Must?
Diverse Projects 
Being a freelancer, it's not unusual that you will be working on multiple projects simultaneously. Further, every project comes with its own set of challenges. In the midst of the daily work humdrum, you may miss out on sending billing requests to your clients. That's where the role of a contracting invoice template comes in. 
Creating an invoice billing template beforehand will aid you in keeping track of all your payments in a systematized manner. Running after clients to procure your payments weeks after you have completed the task is the last thing that you would want to do. 
Presenting a neat and professional-looking invoice to your clients will help you in getting the fruit of your labor on time. 
Variations in Industry & Paying Frequency 
As we mentioned before, independent contractors work in a wide variety of industries discharging diverse functions. 
As a result, some sector-wise payment regulations exist. In some industries, the usual norm is to disburse half of the payment to contractors at the beginning of the project and the remaining after the submission of the final deliverable. 
In some other cases, both you and your client may decide to break up a big project into milestones on the lines of a fixed timeline. 
Having an invoice template for contractors ready will significantly aid you to maintain a record of the amounts that you have received, and the outstanding amounts that you are yet to obtain. 
Multiple Clients 
With the expansion of your freelancing business, your client list will also start getting vast. You will get lost in the pile of work files if you don't have a proper invoice template in place. 
By referring to the invoice number in your system, you will be able to retrieve the required bills easily. Further, having all your invoices handy will aid you in filing taxes when the time comes for the same. 
You will have sufficient clarity in your head about the payments that you have received and the ones that you are yet to get by just spending a few seconds on this invoice generator. 

Understanding What Don't Make for an Invoice for Contractors
Misconceptions loom large about certain kinds of documents that people wrongly believe to function as invoices. So, it is crucial to dispel the confusion and understand which documents don't make for an invoice for contract work. 
Payment Applications- Not Same as Invoice for Contractors 
Payment applications are documents consisting of greatly detailed information about the various aspects of the project completed by a contractor. Presenting the clients with payment applications entail the submission of a request to the client for the release of payment. Do note that these are not identical to invoices, and therefore, blurring the lines between the two forms of documents is incorrect. 
Purchase Orders- Not Same as Invoice for Contractors
Purchase orders are not akin to invoices. While purchase orders reflect solely the formalization of the receipt of the client's order, invoices help confirming the receipt of the contractor's services, thereby requesting the payment from clients.
Oral Communication- Not Same as Invoice for Contractors
Requesting your clients verbally for payments don't make for an invoice, of course.
Well, we are not saying that you won't talk about your payment to your clients. However, there should always be an official document or invoice, backing your verbal communication, stating the services you performed and the outstanding amount that you are about to receive.

When Should an Invoice for Contractors be Rolled Out to the Clients?
Everyone wishes to get paid on time in lieu of their services. Truth be told, sending the invoice to your client as early as possible is recommended. . This is because, delays in rolling out invoices will ultimately result in disbursal of payment on a later date. Further, with the piling of work pressure, both you and your client may find it difficult to keep a track of the outstanding payment amount.
Talking about the right time of sending invoices to your client- well, it is always better to do it the moment the conditions are feasible for you. Dilly-dallying for too long is the sure-shot way to get paid at a later date.
Be quick about presenting your client with the invoice. Further, it is always a good idea to give a gentle reminder to your client about the payment so that you receive it on time.
Opportunely, with the availability of free invoicing software for contractors such as Asanify's Invoice Generator, relaying online invoices to clients has become a breeze. Now you can generate invoices with just a single click and keep things related to your business updated to ensure adherence to regulations.
Also read- Foreign Independent Contractors: Guide to Best Practices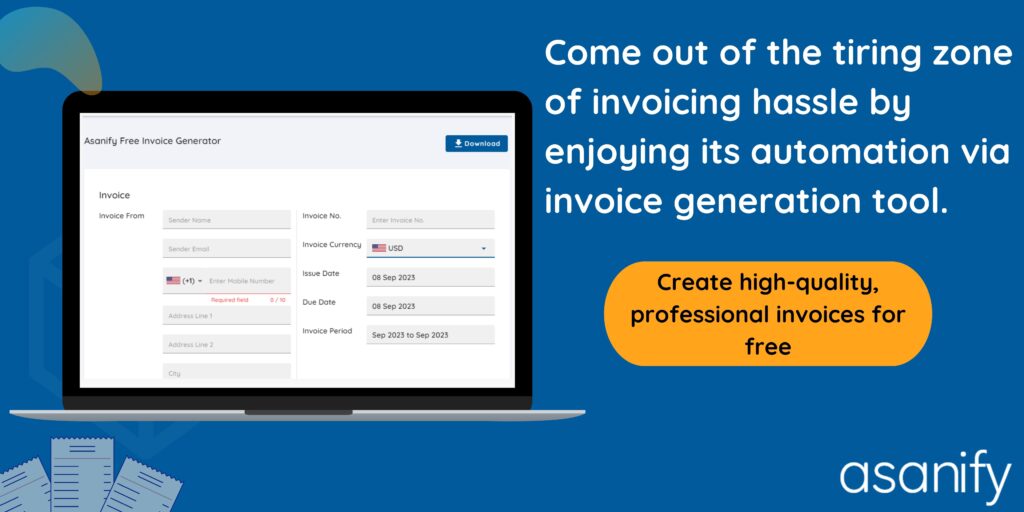 How to Invoice as a Contractor: Step-by-Step Guide
If you are lost in a pool of confusion concerning how to create an invoice as a contractor and send that across to your client, follow these steps.
Step #1: Review the Independent Contractor Agreement to Get a Grasp of the Payment Terms
Before you move ahead with deciding the contractor billing template, make sure you have signed an independent contractor agreement with your client. Under the payment clause of the agreement, regulations related to the pay rate, payment frequency, and payment method ought to be mentioned. 
Having the independent contractor agreement in place will ensure your receipt of payment on time, in lines with the way it has been mentioned. For instance, the contract may specify whether you will receive payments monthly, weekly, or biweekly. Further, it may state the disbursal of payment on the basis of completion of each milestone within a specified deadline. 
By referring to the payment conditions in the independent contractor agreement, you can easily frame the contractor invoice form. 
To answer your question as to how to write an invoice for contract work, let's see what the next step is. 
Step #2: Accumulating the Vital Pieces of Information to Generate Invoice for Contractors 
While hopping on to the task of creating an invoice, you need to arrange relevant information such as:
Services rendered;

Total time worked (if billing is done on the basis of hours worked);
If you quote charges on the basis of hours worked, make sure you are tracking the same with any time-tracker tool. This is important to ensure that you are getting paid the right amount for the hours you dedicated. 
You can easily get your hands on Asanify's free invoice template for contractors, drafted just for you. 
Just a click on the invoice generator tool, and voila! You will then get the answer to your question as to what a contractor invoice looks like. 
Step #3: Prepare the Invoice for Contract Work 
Well now comes the core process of coming up with the invoice for contractors! There are some crucial fields that you ought to include. Some of these include invoice date, invoice number, terms of payment, tasks completed, etc. 
We'll discuss the must-have fields of invoice for contractors in detail shortly. 
Want to simplify things? Well, just use our free invoice generator tool that will customise your billing request as per your needs. Get your answer to "what does a contractor invoice look like" from below. Use this professional invoice template and customize it the way you want.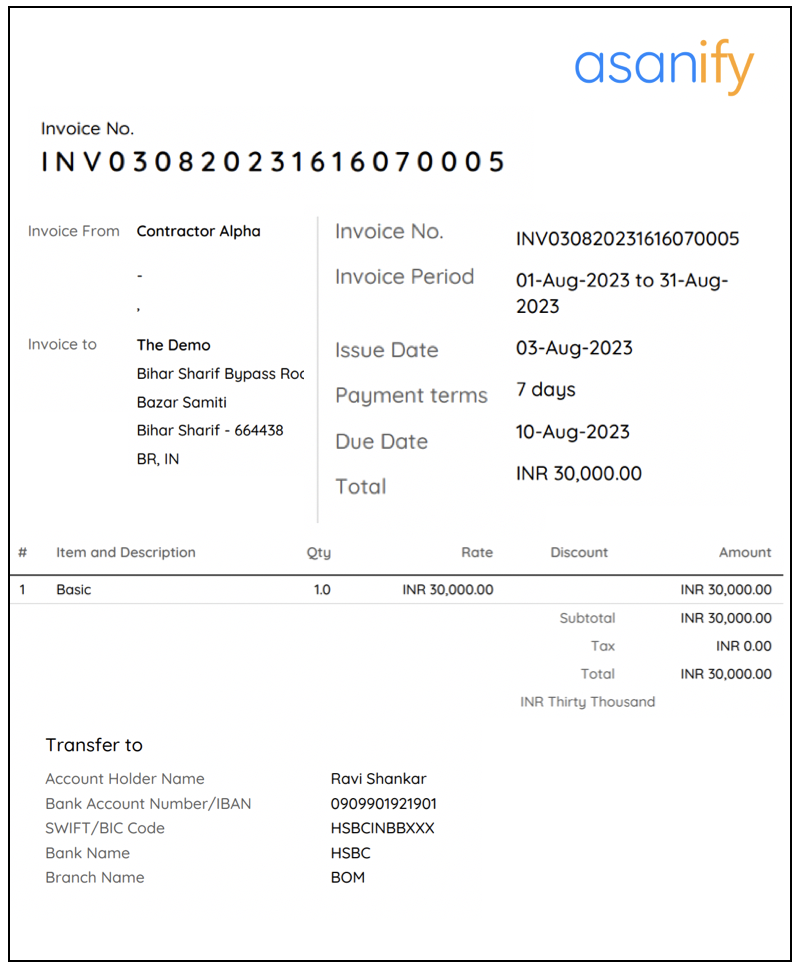 Get a customised invoice that will reflect your brand and personality by clicking here.
Step #4: Attach Invoice in a Billing Request Email to Your Client Before the Payment Due Date 
It is a good idea to send your invoice embedded in a billing request email to your client prior to the due date. Later, when the due date comes, make sure to send another reminder email with the invoice attached, of course. 
In case you don't receive the payment after 7 days of the due date, there is no harm in sending a gentle reminder to your client. It is crucial that you maintain a professional and polite tone in the final reminder email. 
Asanify's Invoice Generator Tool for Contractors acts as the ideal self-serve solution for both contractors and companies. Get rid of your persisting invoice headache right away with just a single click. 
Tips to Follow While Creating Invoice for Contractors 
You will be shocked to know that, in a developed nation as that of the UK, only 32.7% of the companies pay invoices on time. 
To ensure you don't get into the tricky loop of running after clients to get paid, following some tips and best practices while preparing contractor invoice form is a wise thing to do. 
Make sure that you are sending invoices to clients on time. The more you delay, the worse the situation gets. We know how frustrating it is to keep pursuing clients just to get your much-deserved pay. Now you can quickly roll out customized invoices to all your clients

by tapping here

. 
Sending clear, detailed invoices to the clients is recommended. After all, your client needs to have a proper idea for what services they are releasing the payment. Staying everything arranged and organised is the key to maintaining professionalism in a work relationship. 
An appealing idea to get your payment on time is to offer a certain percentage of discount to clients on early pay disbursal. Likewise, you may choose to include penalties for late payments. These conditions aid in accelerating the payment of invoice for contractors. 
As we mentioned before, never hesitate to follow up in case of delayed payments. Clients may miss out on releasing the payment owing to any unforeseen situation. In the maze of work, your invoice for contract work may get lost in the array of other files. Try to follow up with emails or a quick call to ensure fast disbursal of payment.
Also read- Terminating a Contractor: Know How to End an Agreement Politely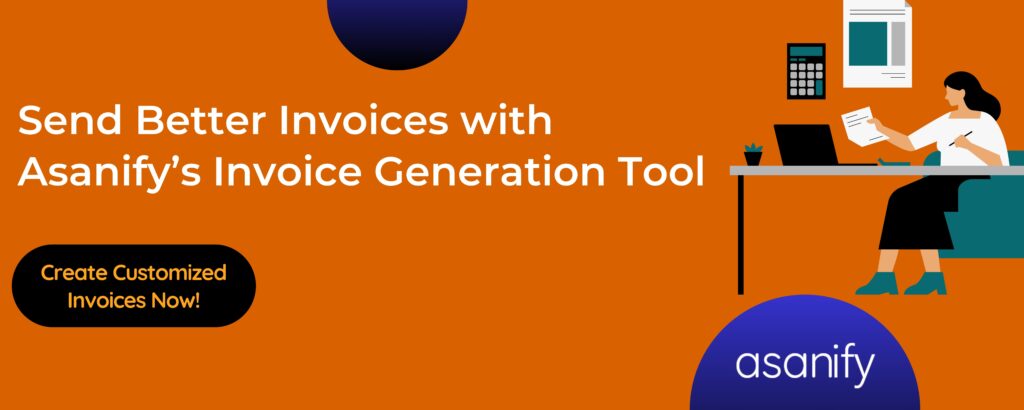 Essential Fields That Make for An Ideal Invoice for Contractors 
Owing to the diversified work industry of independent contractors with further varied payment terms, it is obvious that the look of invoices is going to be a dynamic one. However, there are some crucial fields that are a must in any invoice template for contractor work.
Including the following vital elements in your invoice will not only aid you in staying compliant but also maintain a professional image. 
Document Heading to the Invoice for Contractors 
Well, it is always the heading at the top where our eyes rest first. It is obvious that your client will first come across the title of the document. Ensure that it is rightly labelled as an invoice. While simply keeping the document heading as "Invoice" is fine, you may wish to make it a bit particular. So, you may name it as "Invoice – [Month and Year]- [Your Name]." 
Logo of Your Contractor Business 
If you have a logo for your freelancing business, make sure to include it in your invoice, particularly, at the top. Doing so not only establishes clarity about your identity but also emphasises professionalism and attaches added value to your brand. 
Information Concerning Your Business 
Mention of important information concerning contractor business is a must-have of any ideal invoice for 1099 employees. You may want to include contact information concerning your contractor business in the invoice. Doing so would aid the client in keeping track of the payments they are making to contractors. 
Business or Contact Information of Your Client 
Including pertinent business or contact information of your client is essential. In that way, your invoice will receive the much-needed legitimization that it is a billing request to which the client needs to respond by paying. 
Invoice Date 
Adding date to the invoice is significant to formalise the document. Invoice date plays a vital role in testifying the date of billing so that you can claim your due payment, in case of delay. Further, adding date to the contractor invoice form will help you keep a record of the receipt of payments, thereby systematising aspects of your independent business. 
Invoice Number 
An invoice number plays a pivotal role in maintaining proper records. Further, it would aid you in reporting taxes precisely. Basically, it is a unique number that can be kept as a record of the payments received. The number is automatically generated and assigned to every document by an invoice software for contractors.
Enumeration of Services Rendered/Hours Worked 
An ideal invoice is the one that lists down all the services you have performed. For each task you have completed, mentioning the price or wage corresponding to those is essential. Adding the date of completion of the task beside every service for which you are charging is also crucial. 
Due Payment Amount in the Invoice for Contractors 
Well, the focal field of an invoice is the payment amount that is due. Highlighting this amount is a good idea because your client will likely look for this in the first place. In that way, your client can have a quick look at the amount they owe you and disburse it eventually. 
Payment Method and Information 
Refer to the payment clause of the independent contractor agreement to specify the payment method in the invoice. This payment method will be the one that your client will use to pay you. Other essential information such as your bank account or PayPal details also need to be present in the invoice. 
Due Date of Payment 
Never ever miss out on mentioning the due payment date in your invoice. In case you don't get paid, you can use this document to illustrate the last payment date and take subsequent legal action. 
Your Signature
Signing your invoice before sending it to the client is essential. This is important to add credibility to the billing request. While using an invoice software for contractors, don't forget to attach your digital signature to the invoice.
Applicable Policy for Late Fees 
If your business has a late fee policy, make sure to add this component to the contractor invoice form. In that way, you will receive the late fee from your client in case they delay in disbursing the amount. 
Salutation or Greetings 
Well, so this part is all about giving a personal touch to your billing document or invoice. For example, you may consider adding wishes, a note of thanks or practically any statement emphasising cordial work relationship with that client. A bit of warm human touch in a software-generated professional document will always be a welcome relief. 
Apart from including the above fields, you need to ensure that the invoice bears a neat and concise depiction of the details with an overall professional look. 
Brush past all the stress related to creating invoices by using this free invoice software for contractors.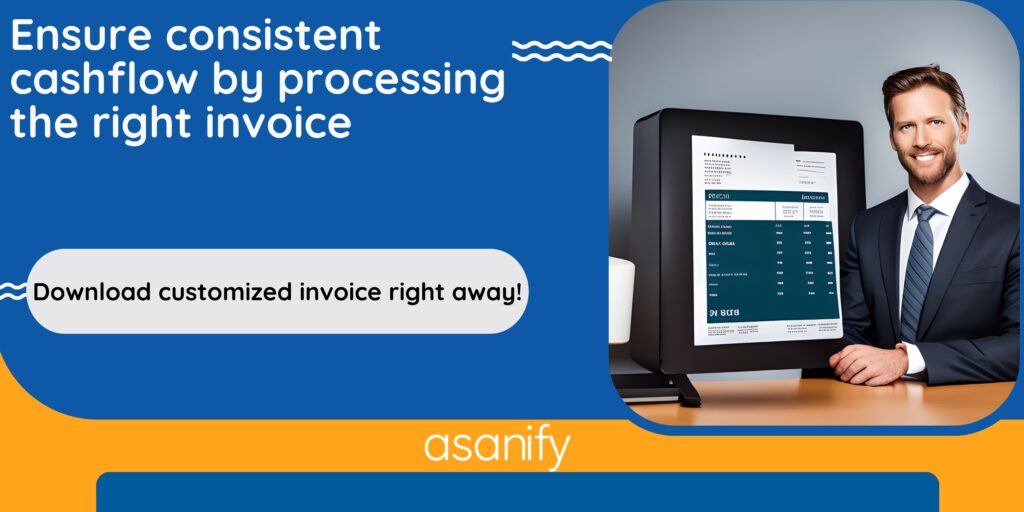 Top Mistakes to Avoid While Preparing Invoice for Contractors 
Being an independent contractor comes with its own set of responsibilities. While embarking on the journey of creating a contractor billing invoice template, you may commit errors initially. 
As a person who is self-employed, you will understand how crucial invoice is for your livelihood. After all, it is the stepping stone to getting paid on time. And you won't want any inadvertent mistake in the invoicing process to adversely impact your income. 
Let's have a look at the common invoicing errors and ways to avoid those:
Missing Out on Tracking Hours 
Forgetting to track your work hours may cost you a lot. If you miss out on recording the hour when you started working and finished doing the job, your invoice won't be accurate enough. No one wants to stay in an absolute mess, right? Staying organised before sending the contractor invoice form is crucial. 
There are several time tracker tools that you may consider using. Also, you may note down the hours manually in a diary. After all, it is just a simple thing to do. The key to sending correct invoices lies in staying organised with your working hours properly documented. 
Not Following a Consistent Invoice Format 
Make sure that your invoices are following a consistent format. Sitting down to prepare an invoice template for contract work every time prior to sending the request to your client may turn out to be harrowing for you. 
The best thing to do is to use a single contractor billing invoice template, and accordingly make some changes to it as needed. Asanify is the best invoice app for contractors. Just use this free app of invoice for contractors and get your hands on a customised billing document. 
You may edit some invoices before rolling those out to your clients. For instance, you may add or delete any row while keeping the core fields intact. 
In that way, you can save a chunk of time from your busy schedule and stay consistent in your professional-looking invoice. 
Forgetting to Share Payment Terms 
While your client has expressed their assent to your payment terms while entering into the independent contractor agreement, it doesn't harm to mention this aspect once again in the invoice. Doing so acts as a gentle reminder so that they don't forget to disburse the payment in line with your conditions. 
Delaying the Sending of Invoices 
It is always a good practice to roll out the invoice for contract work to your client at the very moment you finish submitting the final deliverable. 
Sending on-time invoices carries an underlying message to your clients that getting paid on time is crucial to you. After all, you are presenting them with the invoice with great immediacy. 
Since you have just completed the project, it stays on top of your client's mind to process your invoice. Act fast to ensure a healthy cash flow of your freelancing business. 
Not Nudging Your Clients in Case of Late Processing of Invoice for Contractors 
It is better not to wait for weeks or months before you start hunting an invoice that is overdue. Once the payment due date crosses, send a gentle reminder email to your client. 
Often, people forget things. Make sure that you are maintaining a polite and considerate tone in all the reminder emails to your clients. Be pleasant in all the follow-ups and keep doing that periodically till you receive the payment. 
The catch is to act faster, and not wait for too long in sending the reminder emails. Else, things might get awkward. 
Not Being Transparent in Invoicing Records 
As you probably know, invoice forms for contractors are not only about receiving payments. In fact, these play a crucial role in meeting your tax obligations. 
Invoices form the backbone of self-employment income declaration. Only professional invoices can aid you in staying systematic and organised during the tax season. 
Stay transparent in depicting your income details so that you don't fall into the trap of any legal battles with the authorities. Further, it is also essential to ensure that there is a proper record of all your invoices in your system for quick retrieval during the times of need.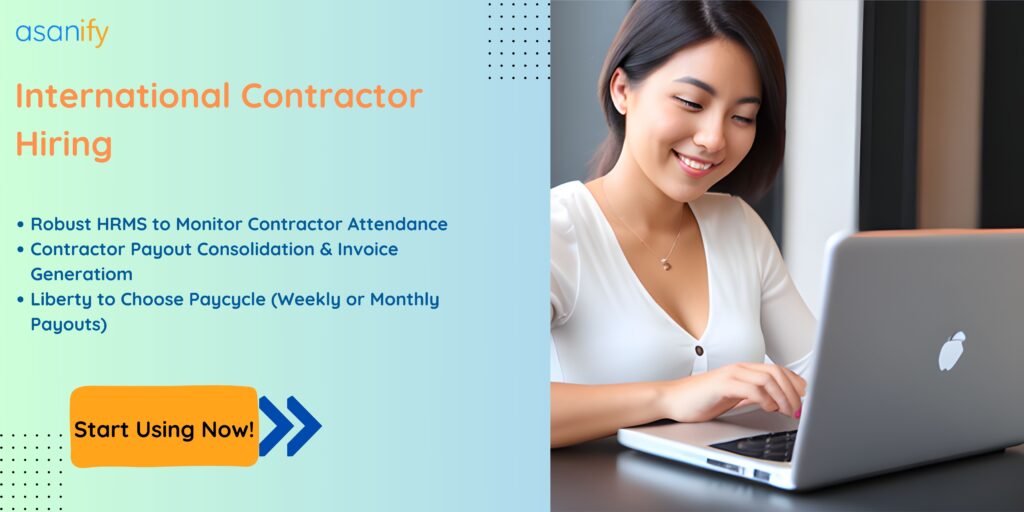 Do You Hire Contractors? – The Other Side of the Picture 
If you are on the b-side, meaning- a company that hires contractors, it is all the more crucial to understand the nitty-gritty of how to write an invoice for contract work. 
Asanify's invoice software for contractors can make things easier for your business as you too can generate invoices for your global team seamlessly. 
Our International Hiring Platform has been exclusively designed for hiring managers like you so that you can have a smooth experience while hiring contractors spread out across the planet. 
Well, this is not all about it! Our Global Contractor Management Software will help you hire, manage, and pay international contractors miraculously. With the availability of best-in-class FX rates, you can even run and manage global contractor payroll without having to face any hassle ever. 
From onboarding to invoicing, Asanify is going to be your ideal go-to confidante. Kick-start expanding your business with the exceptional skills of global contractors right away!
Also read- Employee Misclassification: Guide to Avoiding Hefty Penalties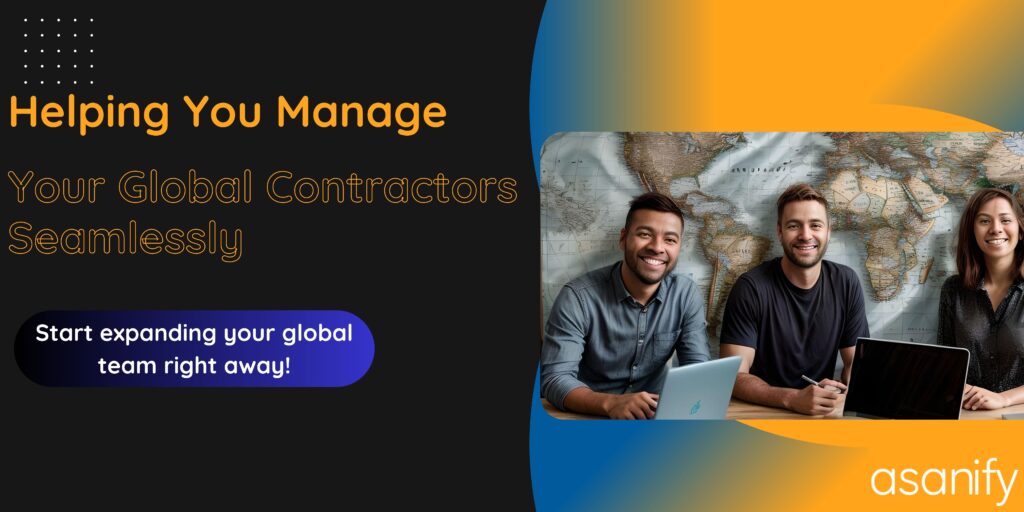 Generate Invoice for Contractors in Seconds with Asanify
If you are lost in the bewildering puzzle as to how to generate invoice in the correct format, Asanify is here to help.
Our free invoice generator tool aids both independent contractors and hiring managers to generate invoices with great accuracy.
Hiring managers can generate invoices for multiple contractors on a single platform in seconds. And if you are a freelancer, you already know how seamless the experience of invoicing with Asanify is!
Further, Asanify's Global Contractor Management acts like a dream. Yes, we mean it! Imagine the great extent of time you will save by automating the processes of hiring, managing, paying, and generating invoice for contractors accurately with Asanify.
A smooth contractor management experience is awaiting you!
FAQs- Invoice for Contractors
How do I create an invoice for a contractor?
If you are wondering how to write an invoice for contract work, your answer is here. Writing a professional invoice is possible when you include some crucial fields in the document. These include- both your and your client's name and contact details, invoice number and date, detailed list of the services performed and the wages for each of these, payment due date, late fees policy (if any), applicable taxes and any other fields that you feel the need to include to bring in a sense of customization.
What should be on a contractor invoice?
As per the usual norm, a contractor invoice should include vital fields such as your name, address, and contact details. Further, you may choose to include the logo of your business in the billing request document.
What is a contractor bill?
A contractor bill refers to a document that outlines relevant information about the payment conditions of a contractor. Such a document is sent to the clients so that they can start processing the invoice and the contractor receives their due payment for the services they rendered.
How do I write a labour invoice?
If you wish to manually write a labour invoice, make sure you include these details- your business name and contact details, your client's name and contact information, invoice number and date, payment due date, payment method, applicable taxes, late fees policy (if any), and salutations. Do note that sending invoices by manually writing down the fields has now become a thing of the past. The key to creating a clean and professional-looking invoice lies in using invoice software for contractors. Asanify is the best free invoice app for contractors. By using this, they can easily generate accurate invoices without having to spend much time and effort.
What is a good invoice?
A good invoice is the one that bears a neat, de-cluttered, and professional look. Ensuring that all the fields are systematically arranged with perfect alignments will result in the creation of a good invoice. Further, you need to check if all the relevant fields are included in the invoice because it is a crucial document that comes to aid when contractors go for filing taxes.
What is a typical invoice?
A typical invoice is the one that bears the standard format of a billing request document. This implies that an invoice for 1099 employees ought to include the important components such as- both your and your client's business name and contact information, list of services performed and their respective fees, payment due date, invoice date and number, etc.
Is the invoice a receipt?
Invoices and receipts have a thin line of difference demarcating the boundaries of these two documents. While invoices are sent as payment requests to clients, receipts are generated as a proof that the payment has been completed.
What are 5 ways to pay an invoice?
The most common ways to pay an invoice include- cash/cheque, online payment, bank/wire transfer, or credit/debit card.
What is a proforma invoice?
A proforma invoice is basically a draft or preliminary billing request outlining the estimated payment amount for the services that are going to be performed by the contractor. Sending a proforma invoice to clients helps them understand what payment amount to expect upon the completion of the project. Fields that a proforma invoice needs to include are- description of the services performed, total payment amount, and other relevant details that would facilitate the remuneration disbursal process.
Can I issue an invoice before delivery?
Since an invoice is a billing request, it is important to send it to your client right after you have delivered the work, and not prior to it. However, if it is a proforma invoice, you may send it to your client beforehand to give him an idea of the estimated payment amount.
What is the best type of invoice?
Usually, the best and most common type of invoice is the standard invoice. The major reason behind using this form of invoice is that it can be quickly generated by invoice software for contractors. Further, this invoice type is largely versatile. So, you can send this to multiple clients just by tweaking a few fields as needed.
Not to be considered as tax, legal, financial or HR advice. Regulations change over time so please consult a lawyer, accountant  or Labour Law  expert for specific guidance.