Raise your hand if your startup costs are high! Pandemic or no pandemic, your revenues growth might have flattened. So how do you make your Startup P&L work? I will tell you how in this post. By taking care of your startup expenses. We will go through how top startups have gone about reducing their costs during COVID-19 or otherwise. Additionally we will hear recommendations from financial experts and CFOs on reducing costs.
In this blog:
What are the most essential startup costs
There is no shame in taking a cue from the global leaders. Read on to know how successful organizations handle startup expenses.
1. Building a strong team
A crew which shares the same visions as you, is extremely crucial. Hence, team building is the first and foremost step you should take towards startup expenses. In order to do this:
a) Hire high quality people
The first priority in startup expenses should be hiring best-in-class employees. It is no secret, that good employees come at a price. So don't shy away from remunerating employees to get the best out of them. The 5 most important roles that you should look for while hiring in a startup are as follows:
Engineering – These are the superstars that build your core offering.
Product – They form the gel between customer requirements and engineering and keep the chaos contained.
Marketing – Of course the entire these multifarious talent will help your company get qualified leads.
Sales and Business Development – A man's got to eat right? Each company needs these go-getters to earn revenues. Make sure to onboard your sales team quickly to improve your revenue cycle.
Customer Success – ensure success for and with your customers. You have got a deal. Congratulations. But can you keep the deal? These modern jack of all trades help in customer retention, cross selling and up-selling.
Wondering what steps to take in order to hire the best employees in these departments? Firstly, create an elaborate and impressive job description. Secondly, generously use social media. It is so because, this way you get to reach out to a large number of people. Additionally, when you post for job openings it also doubles as an advertisement for your startup. Thirdly, develop a profile based on the skills required. Compare and contrast skills among existing employees. Thereafter, the success profile will help you skim out the best employees out there. Besides these 3 key steps, some other measures are to interviews, online assessments, and more. Further, to retain and engage these high-quality employees, make use of HR chatbots.
b) Invest in growth hacking
Growth hacking is a fairly recent concept in business. Fastest way to grow is to focus on a growth team. Facebook famously setup a growth team pretty early in its journey. Facebook's growth team is credited with change in its early trajectory. It is primarily used by startups like yours, in order to attain a large number of customers within a very short period. Growth hacking experiments with different marketing techniques, in a fast-paced manner, to deliver quick results. Furthermore, this technique is foolproof and not scam. Hence, you may have onboard a growth hacker to do the work for you.
2. Making affordable products
Your startup's existence revolves around the product it offers. Hence, focus on ways to make the product better. Employ means and technologies to make the product affordable. This, in turn, will increase sales of the product and churn in profits.
3. Marketing and advertising
Your endeavors will go in vain if you do not bring it to the attention of the general public. Make people know about your brand, and what you are offering. Spend generously on good marketing. Advertise in various places. Although, don't forget to pinpoint your target market. It is so because advertising to a generalized market significantly reduces the chance of customer conversion.
4. Invest in critical software and technology
It is absolutely crucial that you splurge on essential software to carry out everyday processes.
ERP software
An Enterprise Resource Planning or ERP software helps to get all your managerial functions in line. It integrates all processes essential to your company, under one roof. 
HRMS
A Human Resource Management System (HRMS) helps to increase efficiency, productivity, and accuracy of people. A cloud HR software saves your time and money. Your employees need to be spending time doing value added work. Finally, do not let your employees waste time and be disengaged.
CRM
CRM or Customer Relationship Management is a popular software for startups. As the name suggests, this approach helps to further existing customer relations. Moreover, it facilitates in making new customer relations as well. 
5. Globalization
Directing your startup expenses efficiently can act as a stepping stone for going global. But globalization is not a piece of cake. Without adequate resources and campaigns, trending on a global market can get quite hard to achieve. Indian companies can get a stronger revenue realization by targeting a global market. Global Bharat Programme and other large institutions are helping Indian startups and SMEs spread their wings abroad.
6. Spending on legal advice 
Goes without saying, your startup needs a legal advisor. It is advisable that you spend on credible legal advice as part of startup expenses. Thereafter, it helps with legal frameworks and liabilities, from an early stage. Further, it reduces the risk of huge legal settlements in the near future.
7. Investing in customer service
You cannot have sales without providing customer service. So what are you waiting for? Invest in customer service. On one hand, it backs sales. On the other hand, customer service promotes better customer relations as well.
8. Contracting out to a PR agency
As mentioned before, you need to focus your time on projects that scream for your attention. For the rest, you can rely on external hires. Outsourcing to a PR agency can help in image management. Moreover, it improves external communications.
9. Trademarking your brand
Since you are a startup, you should trademark your brand early in the game. Intellectual property is important since it saves you from legal hassles later. Protecting your innovations and ideas since the very beginning is always a smart move.
10. Establishing a network
Take important personas out for lunch. This may sound unimportant, but hear me out. It is not about buying them lunch, but about creating sustainable contacts. With one single lunch, the valuable contact that follows is priceless. Make sure you manage to chime out of work conversations while you are at it. Keep it cordial and don't get overly personal.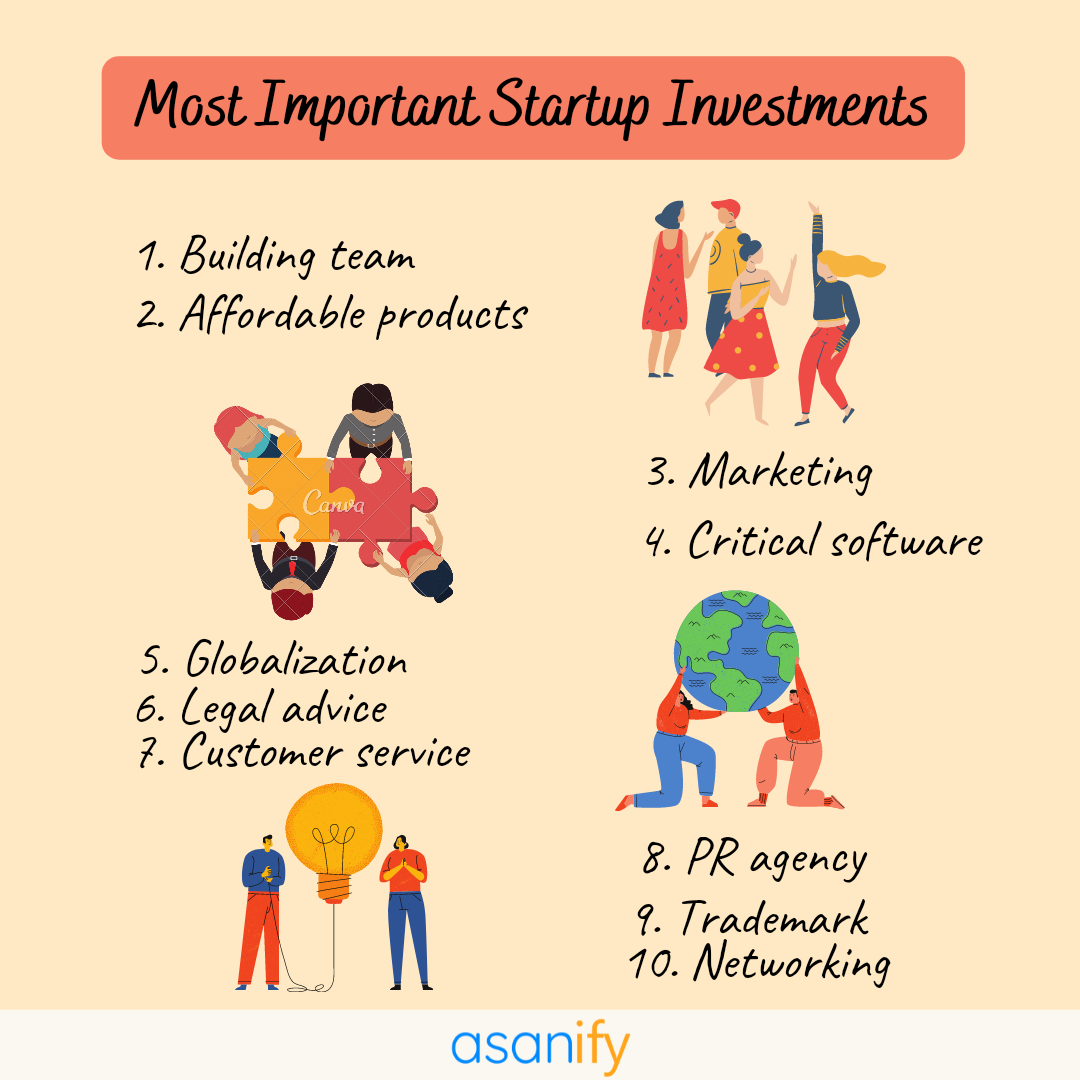 What are the most avoidable startup costs?
It is easy to get distracted after raising funds for your startup. Further, the avenues of spending your startup expenses are numerous. Hence, it is not unnatural to get confused. But I am here to ease your tensions. Check out the following 11 common mistakes when it comes to startup expenses.
1. Going on a buying spree after fundraising
I understand if it gets difficult for you to resist the urge of buying in tons. With all the funding available, now you have more buying options. But make sure you spend your money only on the absolute necessities. 
2. Spending at one place after fundraising
You may feel like buying the absolute best product available out there. But by doing so, you are reducing funds allotted for other necessities. Thus, be sure not to focus your startup expenses in one place.
3. Hiring a brand designer
These days, with so many editing tools available, you hardly have the urgency to hire someone to design your brand. Instead, educate yourself on the usage of basic editing tools. 
4. Looking expensive
The one common mistake to avoid during startup expenses is to splurge on fancy items that make you and your startup look expensive. For instance, designer clothes, fancy office decors, and more. Bear in mind that you raised funding to push your brand, and not your entity.
5. Overstaffing
Since your first course of action would be to hire quality employees, you may be prone to hire more employees than needed. On one hand, it will be unjust to fire your existing employees, since they were instrumental in the startup fundraising, in the first place. On the other hand, with new employees on board, you may be having more people onboard than what is required for the job. Hence, while employing new hires, make sure you're not overdoing the numbers.
6. Spending on unquantifiable outreach measures
In any business process, you should target your money towards quantifiable measures. Otherwise, in case of outcomes that are only measured by quality, there will be no way for you to measure success. Neither would be able to demonstrate your company's growth to future investors. Hence, investing in processes whose results are quantifiable, goes a long way.
7. Buying customers 
Although spending your money for fake followers, email marketing lists, etc. may make you look successful, they are not viable. Apart from the practice being unethical, there is also no chance of actual returns from these customers.
8. Hiking delivery costs
Do not unnecessarily make a dynamic shift in your packaging for shipping, or shipping methods. Making minor details like adding a logo, or providing business cards is feasible. But revamping the packaging or contracting out to world-class shipping companies, will be nothing but a waste of money for you, at this point.
9. Indiscriminating costs
Startups often overlook to distinguish between fixed and variable costs. Therefore, it would be wrong of you to assume that all your costs would remain stagnant while your business grows. Failure to estimate your break-even point may lead to discrepancies in the calculation of startup expenses.
10. Hiring leaders
Many of startups are going for external leadership services. But it makes little sense as it demotes leadership qualities from within your firm. Moreover, if an external individual is adept at leading your startup, it nullifies your authority.
11. Splurging on travel
While you should not miss business opportunities, you should also consider expenses before hopping onto business travels. Such travel expenditures are often too high and unnecessary. Look for ways to conduct the process virtually. Additionally you should setup a relocation policy to avoid cost overruns.
How to reduce startup costs during COVID-19?
Managing your startup amidst the pandemic can be quite the challenge. However, such trying times come with an opportunity to cut down your startup expenses. How so? We list the innovative and creative ways in which top startups do so.
Streamline Startup Budgeting Process

No matter how small your operations are, you need to define your startup budget now! Once you set the budget, you can then look at each element of the costs and take appropriate actions as given below.

Adopt remote working

Try adopting full Remote Working as it is a sure way to save costs. Startups such as GitLab and Asanify itself work completely remotely. Do ensure that your remote employees stay motivated.

Eliminate non-essential startup costs

Try to eliminate your startup's Non-essential costs. Take a hard look at your current expenses. Next, understand the revenue impact, if any, on eliminating your costs.

Reduce essential startup costs

First, identify your essential startup costs. Next, try to apply below mentioned tactics to ensure your growth is not affected. Finally, note that these cost heads have a direct impact your startup's growth plans. These costs cannot be eliminated without affecting your startup valuation.

Convert fixed costs to variable costs

Look at the key fixed costs for your business and find a way to convert them into variable costs. Read the below ideas for specific startup cost reduction strategies. Similarly if you must invest in office space and furniture, etc – WeWork or other similar options. These companies bill on a per employee basis – so the costs can be adjusted basis revenues and thus employees. Even employee costs are fixed – so you may introduce a higher bonus component instead of fixed component to tie salaries to company performance.

Hire young and hungry employees

Try to hire young but smart and hungry people. Also try to look for motivated employees because they last longer. Young but loyal employees last longer than more experienced candidates. Thus your future hiring costs may be reduced.

Invest in AI assisted automated learning

I know I am supposed to help you reduce costs not increase it. However, lot of research has shown that training helps reduce churn. So how can startups afford the infrastructure for training setup? After all, you cannot afford to have a training department like large enterprises, right? Well now you can! Asanify provides an automagical learning solution using AI. Now you can automate learning for your company or even your team in a matter of minutes.

Calculate ROI on all expenses

For Marketing and other growth oriented costs, start calculating ROI. For a small business or SME, brand marketing may be eliminated. Optimize marketing budgets to cost per lead. Additionally you may optimize on "cost per sale" also.

Convert contracts to contingent payments

Instead of having fixed cost payouts, you may explore contingent payments for critical costs. Try to go for contracts which are easily cancellable in case of difficult business situations.

Reduce lengths of contract

Try to go for a shorted duration contract so that in case of difficult business environment, renegotiate the terms.
Wrap-up
Conserving cash has never been more important. I hope you can apply some of the techniques mentioned above and make a difference to your business. Do give us a shout in social media if any this this helps.
FAQs
What are fixed costs?
Fixed costs are costs that do not vary with your revenues. For example fixed rentals, furniture costs, etc. Additionally, for non-service businesses, even employee salaries are fixed costs.
What to do immediately after you raise funds?
The first and foremost course of action after fundraising should be to hire high quality people. Who are high quality people? Employees who are equipped with the best skills, have good work etiquettes, and also lift up the group morale, are known as high quality people. Further, the most important roles in an organisation are that of operations manager, product manager, marketing head, salesperson, and content writer. Therefore you should start recruiting in these departments first. To hire the best employees firstly create a beautiful job description and post it on social media. Secondly, create a success profile to measure required skills.
What are examples of startup costs?
A new organization incurs startup costs like the following:
1. Opening an establishment
2. Consulting fees
3. Marketing and advertising
4. Employees' salaries
5. Conveyance costs
6. Creating or buying a business
7. Establishing a partnership or corporation.