Sales Onboarding is possibly the most critical success factor for hitting your revenue targets. Hiring all-star sales reps is hard enough. But inefficient sales on-boarding is a major risk of failure. Moreover, if new sales hires are pushed to start selling too soon, your company may suffer from reputation loss.
This topic is close to the heart for our founder. One of our founders faced this issue personally in his previous role as International sales head in a large media company. His new sales hire had pitched a competitor product name to a key client! This is what happens without good sales on-boarding.
So what are the scientifically proven ways to solve for this pain? Put all your worries to rest as I have got the perfect solution to relieve your pain. Don't believe me? Well, read on to see for yourself.
In this blog:
What is onboarding?
An onboarding process refers to the process of acquainting new hires with the required education, skills, and values. The employees are made aware of decorum, expected results, and organizational behaviour. Further, onboarding is crucial to all departments of an organization. In this blog, I shall take you on a journey revolving around sales onboarding.
Which are the 4 phases of onboarding?
During sales onboarding, first, the new hires follow a brief, basic introduction. Next to that, the process of onboarding follows four distinct stages.
1. Primary induction (up to 3 months)
This is the initial stage in sales onboarding. Here, the work environment is made familiar to the new employee. Without this stage, the new employees are bound to feel lost and out of place. Also, it includes the process of welcoming an individual. In this regard, it is important to note that familiarity does not come in a day. Hence, a new hire might take up to a few months to get accustomed to the work and the ambiance.
2. Skill enhancement (3-24 months)
The second stage is all about honing employees' skills. After all, what good are any of us, if we don't nurture our skills. Stagnancy kills. After the induction process, new reps tend to get bored if they are not working for something new; something better. Hence, in this stage, they try to sharpen their abilities and strive towards betterment. Moreover, this stage can prolong up to a couple of years.
3. Retention (more than 24 months)
After a certain duration, these employees become an integral part of your organization. After a certain degree of skill enhancement, said individuals master their jobs. Hence, with continued development and challenges, they tend to retain their stay at your company. Any employee holding a tenure over 2 years, can be considered as going retention.
4. Separation (up to 3 months before leaving)
It is no shocker that certain employees might leave. Further, the reason can be not finding their fit in your organization or other underlying issues. In fact, at times, an employee seemingly great at his job may also leave. Changes are a part of every process, and there is only so much you can do about it. Thus, take this opportunity to evaluate what issues might be causing your employees to leave.
What is sales onboarding?
Sales onboarding refers to an informative training program for newly hired sales representatives. In other words, it aims to impart the knowledge required for the job. Also, it familiarises the salesforce with company values and necessary tools. Further, the vision is to help new sales reps get accustomed as efficiently as possible.
A good sales onboarding program begins as soon as the candidate has accepted the job offer letter and it provides a relevant and up-to-date curriculum. Moreover, it helps sales reps to understand the target market. Efficient sales onboarding techniques also strive to be at par with international standards. Besides, for sales onboarding to be perfectly effective, it has to be personalized as per each individual.
What is sales onboarding software?
Sales onboarding software helps make the sales onboarding process easier. It focuses on two main aspects for new recruits:
1. Understand the company's sales process comprehensively
2. Improve on selling abilities and increase amount of sales

Sales onboarding software is a specialised tool used by sales managers across the sales departments. Additionally, it allows for a continuous learning process for existing employees and initiation for new hires. Asanify makes sales onboarding efficient by eliminating the need for printed material and in-person sessions. It prepares knowledge summaries to accelerate the process of recruitment to autonomous selling.
Furthermore, sales onboarding software can provide centralized learning to sales representatives that are spread across locations. All in all, complicated sales coaching is simplified to easy and accessible learning methods.
What are the key criteria to select sales onboarding software?
Regardless of why you have decided to invest in sales onboarding software, here are a few criteria to evaluate:
1.    User interface
A simple and intuitive interface is your best bet when it comes to sales onboarding software. No one likes a clustered sales onboarding program which is difficult to navigate through.

2.    Comprehensive learning materials
The software must provide structured sales content along with practice modules. It should preferably also have a progress bar to track sales understanding.

3.    Tools for assessment
True learning can only occur when there is a continuous process. In-built assessment tools allow to identify and improve skill gaps to maximize learning for new employees.

4.    Management tools
A sales onboarding software must also be able to integrate with a sales performance tool. This helps to recognize and rectify problem areas for particular modules.
Which is the best sales onboarding software?
There is no perfect software. However, these 5 come pretty close based on the selection criteria mentioned:
1. Asanify
Asanify is a full-fledged sales onboarding and training software.
i) Superior engine and interface: Its AI engine is research-based which provides knowledge summaries of entered topics.
ii) Learning materials: Asanify's automagical learning process allows for extensive learning content through quiz creation. Quiz questions can be created based on the information entered for easy subject material recovery. 
iii) Assessment Tools: The learning quizzes are self-paced which gives the sales team time to fully assess themselves. This in turn helps them track their individual progress. 
iv) Performance Management: The assessments can be used as a means to review sales progress before and after closing a deal. Thus enabling measurement of sales performance.
2. Lessonly
A powerful software, Lessonly helps in faster onboarding, higher NPS scores and good customer experience.
3. Mindtickle
A data-driven sales rep platform, Mindtickle correlates sales abilities to business results. This improves the salesforce's performance
4. LevelJump
LevelJump is an outcome-based software from within Salesforce. It helps driver better enablement programs at scale.
5. Showpad Coach
It delivers sales onboarding, training and video coaching solutions. It also empowers sellers to engage with prospective buyers.0
What is the product training process for sales?
Product training is a part of sales onboarding. It is a knowledge training program where the salesforce is educated about the products and services. Thus, product training provides sales reps with answers to :
What is the product?
How does the product function?
What issues does the product resolve?
How is it better than the competition?
What is the product's USP (Unique Selling Proposition)?
How much does it cost?
What is the longevity of the product?
How important is product training in sales?
Product training is crucial to create a good impression on customers. Here are a few ways of how product training helps:-
Responding to tricky questions
If the salesforce is completely aware of a product and it's specifications, they will not face any difficulty while answering difficult questions from the customer. After all, you do not want your sales reps to stumble when faced with difficulty. Therefore, employees should be confident and educated.
Establishing faith
Customer loyalty builds upon faith in a product or service. When sales reps sound confident about a product, it makes the product look even better. Thereafter, customers find such products reliable and trustworthy.
Making a long-lasting first impression
Information is power. If a salesperson puts forward his point with utmost certainty and a sense of expertise, it creates an impression on customers. An attitude and knowledge which stands out from others make a long-lasting impression. So product training is a must if you want your customers to be regulars.
How do you improve product training?
Since product training is of utmost importance, you need to design an effective sales training program. Keep reading to check out the 4 key factors by which you can improve your product training. 
Product knowledge
This refers to a thorough understanding of the product. As mentioned before, deep knowledge about the product is important to maintain good ties with customers and clients. Not only does it build your reputation in the market, but also it increases the number of potential customers.
Understanding the target market
It is unlikely for a customer wants to purchase a shirt, to go back home with a duffel bag instead. (Unless of course, you have a genius sales strategy). Similarly, a child can never be a target customer for alcohol brands. Hence, to inject the buying desire in your customers you need to pinpoint the target market. Moreover, you need to study the said market's geological, psychological, and physiological orientations. 
Comparison with competition
You may think that your product training is the best among all others. Although your sales onboarding strategies may be doing wonders, there will always be something to learn. Try to analyze what your competitors are doing. Learn the best from each company out there. Subsequently, your product training strategy will soon become the best version of itself.
Adding a killer value statement
"Just Do It"- the moment you hear this, you know it's Nike. The statement makes an impact on you. Adding a value statement means creating a mission-focused tagline for your products. Further, it should be concise, easily understandable, and most importantly, attention-grabbing. It should portray what your product and company is all about. A strong value statement builds your brand and goes a long way in making a mark in the market.
What are the goals of sales onboarding?
Although the present solutions are helpful, they are not completely efficient. More so, in these testing times. Sometimes you wonder how awesome certain changes would be. Here are the goals of sales onboarding from the following 3 personnel perspectives:
New salesperson
The goal is to make a new employee fully aware of his vision and mission at your company. More importantly, they should feel welcome. Further, the onboarding process should motivate them to be productive. Ideally, they should be acquainted with the selling material in a gamified way. This will also help them to prepare better for a practical market. In turn, they will be more prone to immediate success owing to familiarity.
Sales manager
The managerial function does not have to be strictly formal. If you are a sales manager, you should be able to remove the uncertainty of conversion. To facilitate this, aesthetic dashboard analytics must help you to know if your sales reps are capable of facing customer queries. If yes, how well will those reps frame their answers? As a result, you can send specific employees to sales much faster and with confidence.
HR/Learning team
If you are responsible for the Training and Development, your priority are:
Creating quality training material for an engaged learning session
Knowledge retention from the training. Because that shows ROI.
High completion rate of the training and associated quizzes
Feeding your company's materials like PDFs, brochures, etc. saves manual time create questionnaire. Imagine self-paced processes integrated with communication software like Slack, MS Teams, etc. You will never have to give time to boring operational tasks anymore. Moreover, you save time for more insightful tasks at hand. Doesn't the future of HR look awesome?
How to apply an agile approach to sales onboarding?
One of the best ways to stay afloat in the competitive market is to undertake an agile approach. With little time on your hands, you are stuck between making sales onboarding a quick process and training sales reps efficiently. When in doubt, agile is the way to go.
Agile software development: sales onboarding key takeaways
To incorporate an agile approach to sales onboarding, you need to take a cue from agile software development. Software development has benefited from the Agile methodology. Consequently, sales can also benefit from the same.
To elaborate, agile onboarding is not only speedy but also it makes a mark in quality. Much like sales onboarding, a software project used to take months to be developed. After presenting to a client, the team will realize that the requirements would change by then. With the advent of agile and lean startup models, the process has improved.
We live in a VUCA world. Today, change is inevitable so any process has to be agile. Hence, software developers took up the agile approach which ensures flexibility and quick responses. Further, it reduces errors with prompt rectifications. Overall, agile is an abstract concept with some specific implementations:
Scrum- breaking down of large body of work into discreet periods. Each such period is called a sprint. During a sprint, the deliverables are fixed.
Kanban- The concept of continuous delivery with WIP limits. WIP stands for Work In Progress.
There are 12 principles in the Agile Manifesto. Synthesizing that and Scrum and Kanban, I am highlighting the relevant applications for any process:
The highest priority is customer satisfaction through early and continuous delivery.
A measurable output is the primary measure for success. Thus focus should be on seeing visible results for a small unit, fast.
Break down complex problems into short units (Sprint)
Prioritize visible outputs over long drawn out processes
Go for quick wins in sales
Key takeaway from agile is the concept of focussing on visible results.
What are the 4 phases of agile onboarding?
Now that you are aware of the essence of agile methodology, let me take you through some steps to follow for agile sales onboarding:-
Strategizing and mapping
Any good strategy starts with good planning. Make a checklist of skills that the salesforce has to be equipped with. At the end of this stage, combine the skills into a master list. Thereafter, the sales reps can go ticking off the list to gain productivity along the onboarding process.
Sprints or scheduled durations
Sprints are set time frames for actions throughout the sales onboarding process. It is a continuous process. Hence, new sprints begin simultaneously as an old one ends. The maximum duration of a sprint is ideally a month. You can induce sprints by engaging the salesforce in physical activities. Further, these activities must be time-bound. For instance, a fortnight sprint training would include virtual coaching, assessments, recognition, and finally, an employee's first sales call. 
Analysis of progress
Since agile aims at constant improvement through learning, reviewing the salesforce is a must for you. If you are an HR, make sure to check in the sales managers or supervisors to assess employees' progress. Furthermore, make sure to take a note of which of your initiatives are bringing results, and which are not. 
Improvement based on learning 
Based on your analysis, you must look back on your work every couple of months or so. In hindsight, try to chalk out what could have been done differently, or what can be improved. As per your previous reviews, figure out where there is room for improvement. 
What are the three agile practices?
To get the agile wheel rolling, keep in mind these 3 best agile practices.
There is no agile without collaboration. Thus, make it a point to be in touch with stakeholders, such as sales leaders.
You cannot lay enough emphasis on training and assessments. In order to ensure this, create content using a readiness platform such as Asanify.
Lastly, remind yourself that onboarding is a continuous process. It is the journey that matters, not the destination. 
How to build a killer 30-60-90 days sales onboarding plan?
Just like a new employee needs a new 30-6-90 day plan when they join a company, you should also have a 30-60-90 day plan as a part of your onboarding process.
30 days
The main goal for the first month is to make your employees feel comfortable in their material. Further, you should take this time to familiarise them with concepts essential to your company. Here is a checklist to make the process more organized for you.
Completion of basic training
Chalking out priorities
Identify the target market
Define the company's USP (Unique Selling Proposition)
Tracking competition
Interpersonal networking
Strategizing sales
Knowledge-retention
60 days
By the time you reach the second month, the salesforce should be sharpening their skills. After training employees using the curriculum, you may hold mock sales pitches to assess them. Within 60 days the new sales persona should be adept with the sales techniques. Follow the given checklist for an efficient way to ensure the same.
Introduction to prospective clients
Review from customers
Learning in real-time from higher-ups
Finding new leads
Equipping for sales routes
90 days
On completion of 3 months, the new hires should be capable of field assignments. They should be completely aware of how to make a sale. Further, it should not just be an understanding of the technical knowledge, but the practical too. Find out below, how you can reach this goal.
Forming healthy client relations
Feedback from higher-ups
Revamping of methodology
Mapping out efficient routines
Establishing credibility
Belongingness
How are salespeople onboarded currently?
Goes without saying that you would not like to deal with the pains of sales onboarding. To do away with this, currently, companies follow a few measures.
Verbal communication
Verbal communication can be written or oral. It means any form of communication where words are involved. Hence, during sales onboarding, training can be imparted with the help of paperwork or oral instructions. Further, it may be in the form of presentations as well. But the space to communicate in person is next to none in the present grave situation.
Via email
Since face-to-face communication is a no-go amidst the present crisis, you have to rely on technology. As a result, communicating through email is the most viable option. Although, there is no denying that emails can be impersonal. Moreover, they are far from being user-friendly.
The hiring of an external sales training agency
If sales onboarding is doing a number on you, hiring a sales agency to do the work can help. Since they specialize in this field, you can expect a smooth process. But again, there comes the barrier of physical presence. Additionally, this can prove to be expensive.
Providing in-house or external materials
In order to prepare your new hires, you need to provide them study materials. Such a curriculum maybe something organic to your firm. Also, it can be sourced from outside. Additionally, said material may be something that you consistently used. Else you can mix it up. Moreover, it may be in the form of presentations, PDFs, videos, etc.
Why does sales onboarding fail often?
I understand that at times sales onboarding can be a pain. You may feel there is a mismatch between the new hires and your sales onboarding processes. Read on, to know where the major pain-points can arise from.
Manual processes of sales onboarding
Manual processes include making employees understand how sales in your organization work. Henceforth, there is a lot of paperwork involved regarding the sales onboarding process. Moreover, manual processes lack consistency and accuracy. Moreover, manual intervention is hardly accessible during the pandemic.
Time wastage in sales onboarding
Time-hoarding comes hand-in-hand with manual procedures. As a result, sales onboarding tends to take up a lot of time if you are a sales manager or an HR business partner for the sales team. Also, it takes a long amount of time to get sales reps ready for the field. It takes approximately 3 months for a new hire to be able to interact with customers. On the other hand, it takes them 9 months to become efficient in their jobs and 6 more months to be a top performer.
Tidbits: A report of The Sales Management Association states that 62% of companies consider themselves to be ineffective at onboarding.
Uncertainty of knowledge retention
There is no way for you to know how much of the education imparted during sales onboarding gets retained by the reps. Hence, you cannot figure out if or not they understand the concepts to the T. Further, if they don't, you can't know what problems lead up to an employee's inability to understand. Thus, there is a risk of failure while making actual sales. Not only does this make the chances of customer conversion go down, but also it results to face the loss of your company.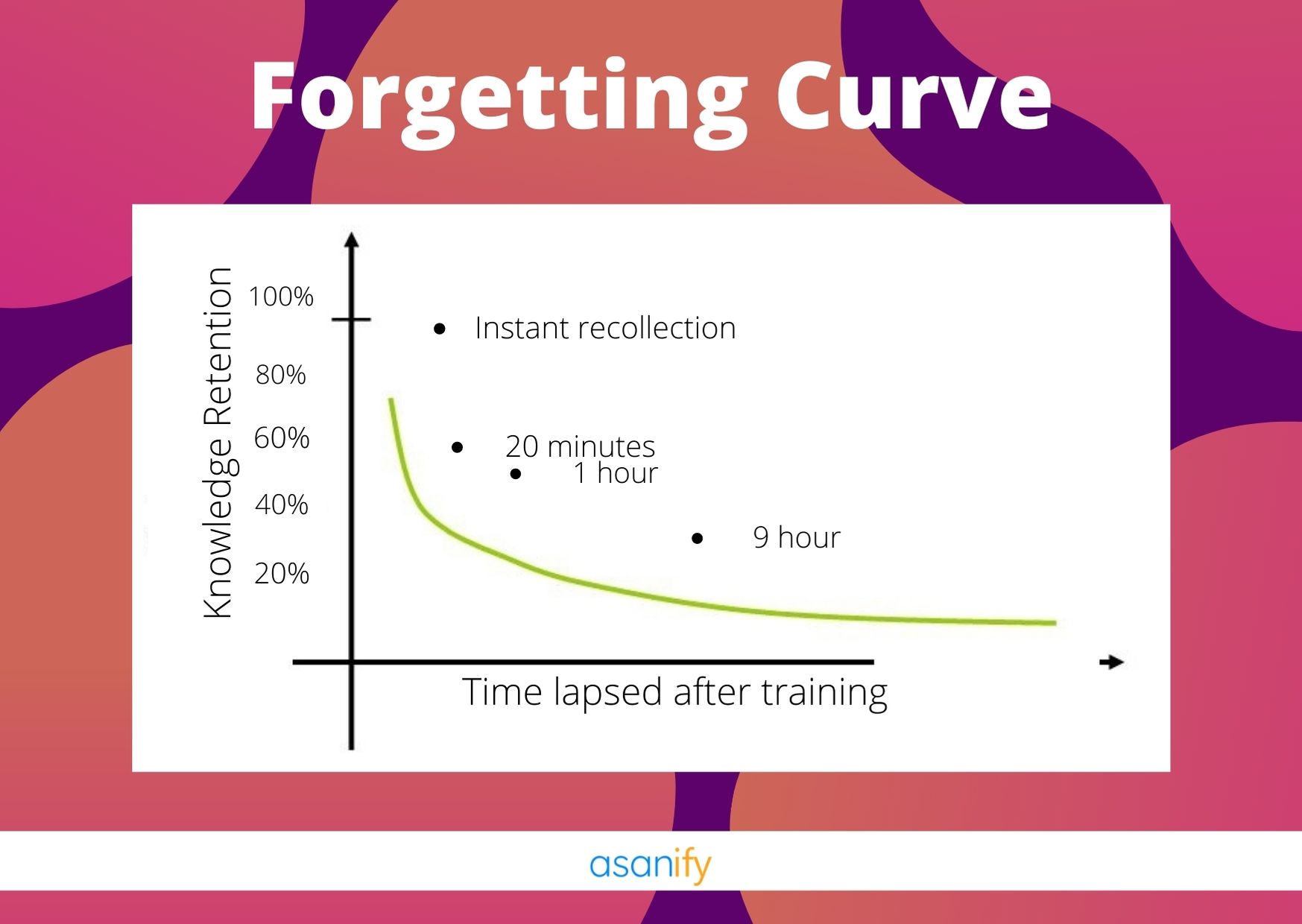 The forgetting curve of an average individual shows that around 5% of information is forgotten on immediate recall. Further, only 55% of the knowledge stays after 20 minutes. On the other hand, the retention amount is 45% after an hour. But after 9 hours, 70% of the information is lost.
Learning is facilitated by providing space between two sessions and further repeating previously learned materials. Further, challenges based on life-like scenarios and gamified activities help in better training.  Moreover, learning cannot be increased without active feedback.
Did you know?

People tend to forget nearly half of their training within just the first hour. By the end of a day, 70% of the knowledge is believed to be forgotten. Moreover, over the course of a month this amount becomes 90%.
What are the effects of poor sales onboarding?
Before we dive into the execution of an agile approach, let us first evaluate what can go wrong if sales onboarding is not done effectively.
Rising costs
Expenses of the overall organization go up a notch if sales onboarding is not done efficiently. Thus, poor sales onboarding affects not just the sales department.
Reduces business reputation
Your business may suffer a face-loss if sales reps are not learned enough. Customers need to like the sales methodology. If the salesforce is not confident and lacks sufficient knowledge, by portrays your organization in a negative light.
Low retention rates
Failure in onboarding processes further leads to low retention rates among employees. When sales onboarding is not interesting enough, it makes your employees quit after a fairly short duration.
Sign of poor performance
Lastly, taking excess time in onboarding may be a sign of an employee's inability to meet targets in the future. Hence, without the right sales onboarding plan you will face deep-rooted problems in your future endeavours. Thus, it is better to take time and create a concrete onboarding plan than to be at a loss of results later.
How to #asanify sales onboarding?
All of your futuristic visions are coming true. Yes, you heard me right. There is indeed a way to bring to life what you have only dreamt about concerning the sales onboarding process. What is it? I bring to you AI in sales onboarding. AI is all about knowledge retention. Not only it makes sales onboarding sound like a piece of cake, but also it does justice to provided materials. Sounds exciting? Follow these 5 simple steps to #asanify (or simplify) all your sales onboarding process.
Step 1: Prepares a knowledge summary via proprietary AI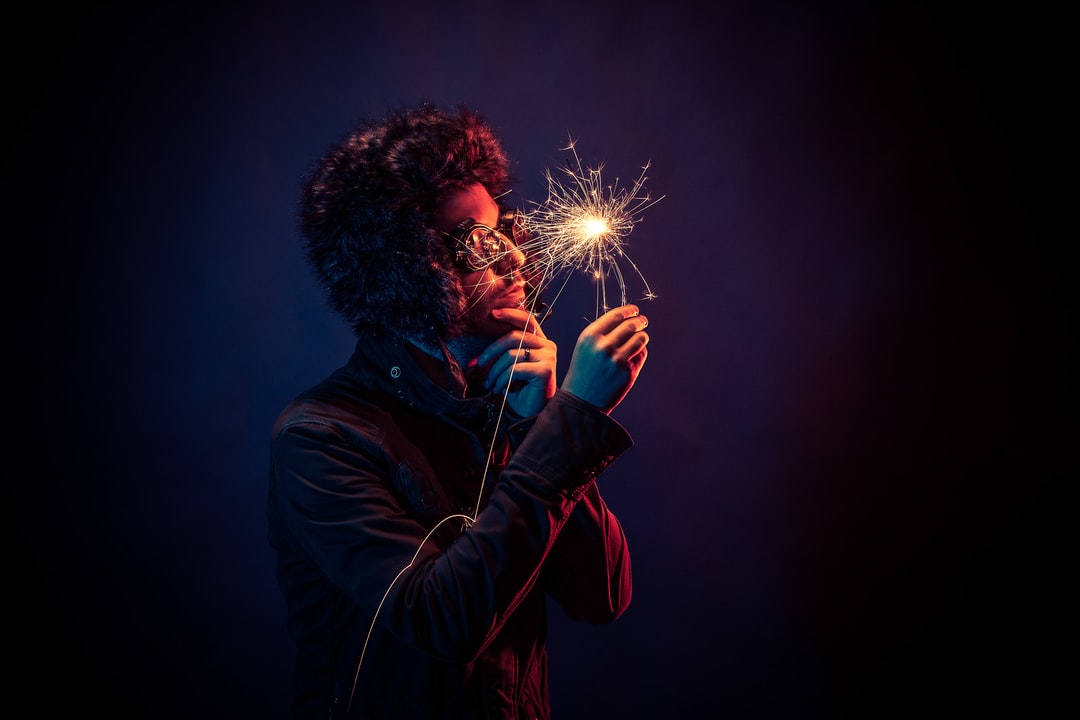 The Asanify AI engine functions on research-based learning techniques. It is designed like the human mind itself. Just like you and me, the AI engine has its learning curve. It gathers knowledge from across the web. Like the human mind, its core is composed of a neural network. This, in turn, helps it to form connections between what it has learned, and what is relevant to the topic at hand. Similarly, you just need to provide any material to the AI engine. It may be PDF, word documents, etc. Thereafter, the AI will seamlessly summarise it, without you having to move a finger. Moreover, the process is extremely time-efficient and takes up only a couple of minutes.
Step 2: Makes the product summary easily accessible
One of the biggest advantages of having an AI engine onboard is its user-friendliness. The summarised material will not only be uber easy to understand but also easily accessible. How so? Well, by making the gist accessible by employees anywhere, anytime. For instance, it may be sent within seconds through communication channels like Slack. Otherwise, a sales rep can simply ask the HR chatbot for the material.
Step 3: Provide multimedia support
Not only does the Asanify AI Engine prepare a text summary, but also it converts that gist to an audio file. What more could you ask for? (No, seriously, drop us a line at support@asanify.com) This method subsequently makes recollection easier, and time-efficient. 
Step 4: Generates quiz automatically
There is one problem common to all the traditional approaches. It is the lack of means to assess whether the employees completely understand the materials provided. In order to get rid of this issue, the advanced AI engine:
Automatically creates a questionnaire from the material fed to it.
Moreover, it tracks nouns, verbs, numbers, and adjectives from the summary to prepare relevant questions.
Hence, you can assess knowledge retention with the help of AI-bases quizzes.
Further, such assessments can be self-paced according to the sales reps. They can assess themselves anytime and as many times they wish to. For instance, before making a sales pitch to a customer.
Likewise, at times you can also get a hold of how confident your employees are with the material, before an important sale.
Although, you mustn't make the process feel like a test. Hence, this is how the AI engine extracts questions from the input materials.
Asanify Automagical Learning
Step 5: Engage employees
No matter how good your techniques are, they will all be in vain if you do not actively engage your employees. Lack of engagement may be all the more fatal for new hires. According to a source, 53% of HR opine that employees are more engaged with an improved onboarding process. With the induction of AI in sales onboarding, this task is now easier than ever. It is so because chatbots are solely focused on interaction. The Asanify Chatbot thrives to imitate human interaction. Hence, giving its employees a personal touch.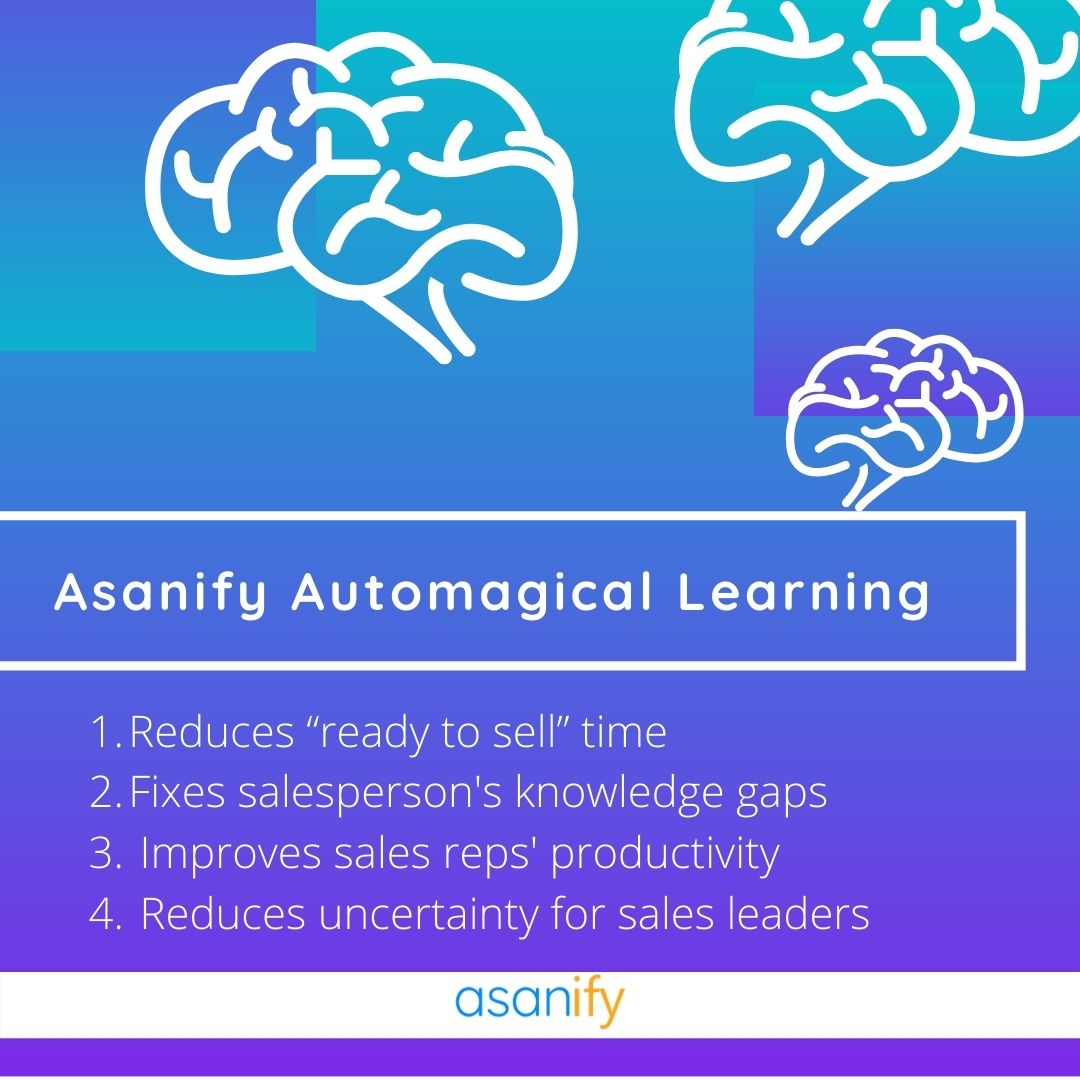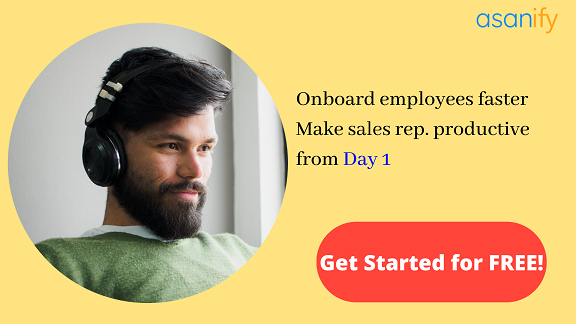 What is the future of sales onboarding?
The future of sales onboarding is blooming. It is safe to say that the future is here and now. So without further ado let us dive deep into what the future looks like.
Sales contest gamification
Gamification is all the buzz right now. It is the method of inducing game-like activities into mundane tasks. Such tasks often have little room for creativity and flexibility. Hence, gamification Sales helps to break the monotonous routine. Let us face it, sale onboarding is not the most interesting task out there. Employees can lose their motivation. Here are a few ways you can make the process interesting to them:
Sales onboarding Contests
Competitions always boost up the urge to perform well. Mostly, they are easy to understand. While creating challenges be sure to keep the parameters similar to what is required of the job role. This way you will get an understanding of employees' skills, but in a way that they enjoy too.
Ranks and tokens
Who does not like praises and attention? Make your sales reps thrive to top the charts in the games. You may also provide tokens of appreciation for winners. Otherwise, they might lack the zest to rank, if there is nothing in it for them.
Feedback and socializing
Creating a forum for employees will help them to speak freely. If you are trying to assess their problems, there is nothing better than direct communication. Engage them in conversations. Show them that you value their opinions. Although there are two points to keep in mind while you are at it. Firstly, do not make it all about work. Secondly, do not engage is much small talk. There is nothing worse than an uncomfortable silence.
Challenges and ability tests
Throw new challenges in the way of your employees. As per Maslow's hierarchy of needs model, every individual has a pyramid of needs. But your employees already have their basic needs fulfilled. Hence, sales contest gamification works on an individual's psychological and self-fulfillment needs. In order to motivate your employees creatively, the factor should mostly be intrinsic. Challenges should be difficult but attainable. Moreover, they should not be directly related to work. For instance, with gamification, you can create treasure hunts which will lead to the discovery of new leads. Further, these days with the help of AI, the entire experience of sales onboarding can be made fun with gamified HR software.
Conclusion
Who said sales onboarding has to be a tedious job? Keeping at par with global trends, the advent of AI in sales onboarding is indispensable. Not only will the advanced AI engine prepare questionnaires based on research and summary, but also it will automate the administration. So, let your organization see the light of innovation. What are you waiting for? Get started with Asanify for FREE, now!
FAQs
Is onboarding part of HR?
Yes, onboarding is most often a part of HR responsibilities. The HR or HR business partner for sales team is in charge of looking over a smooth sales onboarding process. Although, the sales manager may be the one in charge, too.
How long is the onboarding process?
Ideally, an onboarding process should last around 3 months. However, these days owing to time crunch, most organisations fall short at providing enough time to new hires to get accustomed. Thus, in many places the process of onboarding last only a month.
What are onboarding services?
Onboarding services refer to the techniques or methods taken up by an HR to facilitate effective employee onboarding.
What should be incorporated in developing a strategy for sales onboarding?
In order to develop a successful and innovative sales onboarding strategy you need to:
a) Be agile, as it reduces waste in processes.
b) Believe in #workiswonderful, that is, maintain transparency in your conduct.
c) Engage your employees, as the success of sales onboarding depends on retention.
How do I create the sales onboarding process? What is the importance of having this process in place?
Firstly, to create a smooth sales onboarding process you need to understand that it is a long and continuous process. You cannot get done with it. Learning should be a constant. To get the process flowing, you need to be aware of 4 phases to follow for sales onboarding. They are primary induction, skill enhancement, retention, and separation. A killer 30-60-90 day plan will help you to strategize the perfect sales onboarding process.
A good onboarding process is necessary in order to save your company's costs and reputation. Moreover, effective sales onboarding ensures high employee retention and customer conversion rates.
What are the 3 key elements of agile methodology?
The 3 key elements of agile methodology in sales onboarding are collaboration, smooth training processes, and continuous improvement. Besides these, you should also focus on quality and business welfare and norms.
How can you gamify your sales using agile approach?
The core of the agile approach lies in delivering quality within a short duration. Sales contest gamification is hip these days. It refers to creating game-like activities in the arena of sales. These games use parameters that correlate with sales jobs. Taking a cue from the agile approach, make your pan out your games such that they test an individual's skills. You can then review each performance and evaluate if there is any room for improvement. To make the most out of gamification, use the core values of the agile approach which are collaboration, rich content, and constant revamps.
How do you become innovative in sales onboarding?
You don't want to miss out on the latest trends in sales training. In order to stay at the top of your game, innovation is the best way to go. So, how can you get a competitive edge over your competition? Here are three core values to follow:
1. Agile approach- Stimulate waste reduction with agile HR processes.
2. Believe in #workiswonderful- Sales onboarding will be a breeze if you induce transparency and fairness in making decisions.
3. Engage the sales onboarding team- You will never face a challenge in motivating your employees if you use a good interface. This helps since in current times, HR depends on corporate communication software such as Slack, MS Teams, etc.
Not to be considered as tax, legal, financial or HR advice. Regulations change over time so please consult a lawyer, accountant  or Labour Law  expert for specific guidance.