A sales training program in today's world is the critical difference between success and bust! I will take you through a step by step guide on designing a world class sales training program for your sales reps. The only way to tide out the tough times is to go back to the basics.
If you are a startup or a small business, worry not. I will also help you develop an effective sales intervention program for low budget. Additionally I will also give you tips on calculating ROI on your training plan.
In this blog:
What is a sales training program?
Let's clear the basics first. Your product is specialized. Your positioning is unique. The market dynamics are changing every day. And what is your approach to win in this VUCA world? Is it any of the following:
Hire senior industry people who know it all.
Senior people cost a lot of money and may not have a learning mindset. Reducing costs should always be a priority.
Let your sales team figure things out themselves
This is too risky as you just assume that your team knows your product accurately. One of the keys to business success is to reduce uncertainty.
No interventions needed. Your product sells itself
I believe that this is naive. Even if the product is made self serve, the customer success team is an extension of the sales team and needs to be constantly trained.
If you answered yes to any of the above, you are in need of a sales training program as a part of your employee onboarding process. A sales training program effectively focuses on 3 things:
Improving the know-how and skills of the salesforce.

Understand the attributes of customers

Increase revenues
Why is a sales training program important?
A good sales development intervention actually helps save costs. If you only hire senior people, your payroll costs skyrocket. Additionally, the salesforce effectiveness reduces if the sales reps are not up to date with the latest information.
Sales training is a change management initiative
Whether you've heard this before or not, sales training must always be a change management initiative. It is essential to the functioning of a business. Moreover, it involves both, personal development of the trainee as well as creating new techniques and opportunities to close sales. 
Sales training is education
One of the key objectives of a sales training program is to better educate the salespeople about the product. This includes specifications, features, pricing, etc. The program also aims to improve selling skills. This includes learning new techniques and understand consumer motives and behaviour. As a result, it enables the sales team to sell the product more effectively and efficiently.  
Sales training is monitoring
An effective training program for a salesforce aims to track sales activities, maintain accurate records, and analyze closing sales ratios. All of this information is important to the salesperson as he/she can understand areas of improvement and increase efficiency. 
What are the types of sales training?
There are a hundred kinds of training salespeople. As a matter of fact, you can customize your training program to suit your business requirements. But, there's definitely a few that you should consider including in your training modules. 
1. Communication Training
We've all had our share of communication courses at schools and colleges, but businesses continue to undermine their lasting effects. Communication is the key to any sales interaction. No customer wants to speak to a salesperson who can't articulate why the former needs a product. A salesperson must speak in specifics and know what he's talking about. Most salespeople think that communication is one-way and they couldn't be more wrong. Sales is a two-way interaction that requires active listening and the knack of understanding what the customer is not saying explicitly. Thus, communication training is the foremost training to provide to your salesforce. 
2. Customer Service Training
According to Microsoft's Global State of Customer Service report, 90% of the respondents agreed that customer service is important to brand choice and loyalty. 
This one is not limited to the salesforce. Each employee must have basic customer service training. Customer service sales training involves 3 particular skills:
Understanding of company's vision

Knowledge of the product

Great Soft Skills
A large number of organizations are turning to blended methods of customer service sales training. These include a variety of formal, experimental, and social learning methods. 
3. Sales Negotiation Training
This one is a popular favourite amongst salespeople. All parties involved know the power of negotiation skills and seek to have the upper hand. Building trust is key during a sales negotiation. A good salesperson must also state definitive concessions, steer clear of ranges, and know when to walk away. Although the art of persuasion can be learned through several means, the art of negotiation is more nuanced and requires skill training. 
4. Emotional Intelligence Training
There is a growing need for a salesforce that scores high on their emotional quotients (EQ). The sales job can be very stressful and emotionally taxing. A high EQ helps understand one's emotions, project empathy, ask better questions, provide relevant solutions, and handle rejections effectively.  
Emotional intelligence sales training ensures that your sales team is flexible, optimistic, and can assert proactiveness as opposed to reactiveness. 
5. Sales Prospecting Training
Ah, another crucial one. Sales prospecting is quite literally the stepping stone to any sales process. Since it involves identifying prospective customers, it requires specialized training to develop a database of potential customers. Additionally, this database must then be effectively communicated with to convert the 'potential' to 'current' customer.  There are many sales prospecting techniques to choose from to include in this training section. 
6. Sales Executive Training
It takes time and effort to become a successful sales executive. However, once you reach that position, you must constantly train to improve further. I know you may not have the time or readiness to go through extensive sales training, but there are many small ways to consistently learn. These include E-learning, micro-learning, field training, collecting feedback, and sharing success stories. 
7. Sales Representative Training
The number of times I've heard the word 'sales rep' is a lot more than 'sales rep training.' Companies expect newly onboarded salespeople to magically become effective sales representatives. Sales onboarding is in itself a very important process. What leaders don't understand is that the first 90 days are a high-risk period for any new sales rep. Focus on training important skills such as: 
Communication

Prospecting

Developing a business acumen

Storytelling

Handling rejections
8. Sales Skills Training
This one may seem like an umbrella term for all the other sales training but involves a lot of fundamental skills. These include telephonic rapport building, buyer-seller agreement, time management, demo skills, gaining commitment, and closing techniques. 
Another aspect that is often overlooked is the post-sale relationship management. This must be given due importance as it typically shows appreciation and eagerness. 
9. Technology Training
Training your salesforce in the software that is available is more beneficial than you may think. Although most sales interactions may be in person, over the phone, or through emails, there is a need for salespeople to know the basics of software such as CRMs. With remote working, there will be a rise in sales and customer relationship software. Ensure that your salesforce is acquainted with and trained through the latest software. 
10. Sales Management Training
This training type is for the entire sales management team. It helps to create a realistic, scalable, and achievable sales process. Along with that, it facilitates coaching, hiring, and onboarding programs for your sales team. 
11. Motivational Training
The salesforce of any company is most often the one that that finds it hard to stay internally motivated. Sales is a demanding job and motivation comes directly from closing sales and meeting targets. It is important to understand what drives your sales team. Additionally you should evaluate how you can meet their motivation needs. Remote work motivation has become a big challenge across firms and it is imperative to motivate the salesforce at regular intervals. 
12. Sales Recruitment Training
Next, sales management must be trained suitably to hire the right salespeople. A high-performing sales team can be built through effective recruitment methods:
Deep market and candidate research

Forecast future needs

Develop client engagement and value proposition
13. Sales Manager Training
We have all heard the saying, 'It all starts with the leadership.' That is exactly what sales manager training looks at. So a sales manager must be trained to establish clear goals, setting expectations, delegating tasks, giving feedback, and coaching employees. 
14. Customer Success Training
Today, customer success is as critical as sales. In fact, for SAAS companies, customer success is even more important. Sales team helps acquire the customers while customer success team helps retain them. Thus the following topics need to be covered in this training:
Cross-selling

Up-selling

Renewals

Churn prevention

New Product Features
15. Sales onboarding training
Finally, onboarding sales reps quickly helps reduce the revenue cycle. The Go-to-market for any new product can be accelerated with agile sales onboarding practices. In summary, sales onboarding involves explaining details about the company, vision, products and so on.
Which are the components of a training program?
The great thing about a sales training program is that it can accommodate a number of components. Next, here are the top components you should know about:
This includes identifying target prospects and collating data. It also includes important sales skills such as how to make cold calls and cold emails. This component also ensures that your salesforce can make appropriate proposals, close deals, and onboard new clients.
Like always, enhanced customer experience is super important. Also, make sure your program has modules for improving customer experience. This includes the stages right from the point of contact to client onboarding. 
Detailed Product and Market Information 
This component involves providing the sales team with information about your product and market. Hence,  include the Unique Selling of the Product and its distinction points from competitors. As a result, your salesforce will have a better understanding of the user and buyer personas.
Elements of Sales Process 
The elements of a sales process include: 
1.Lead generation: Converting prospective customers through job applications, blog posts, online content, etc. 
2.Sales funneling: The process by which you funnel customers, starting from a large potential group to a smaller focused one. 
3.Drafting proposals: A clear and concise document that focuses on product features and customer objectives. 
4.Up-selling and cross-selling: Ways by which customers are either led to buy a high-end product or other relevant products.
5.Methods of customer delivery: Know what you're selling, be confident, show respect, and be attentive to the customer's needs. 
How to develop a successful sales training program?
It is probably clear by now that a successful sales training program includes everything we have talked about. Let's take a closer look at some of the essential requirements to design and run your sales training program.
Create a Training Material Inventory

This is the first step before you go about designing specific modules. Create an inventory that is able to evaluate the existing sales training services available in the market. List them down and do a comparative analysis with your current training services. The Asanify AI engine can provide you with relevant material whenever you need it. It uses AI to store PDFs, Word Docs, etc. to make your inventorying process efficient. Discuss your findings and needs with the R&D and HR departments to agree on module types and sales training methods.

Define Objectives and KPIs

As with any managerial program, setting objectives will prove to be useful. Define the areas that you feel your current sales team could improve in and include them in your training program. Make sure that the aims you set are realistic and can identify current and future performance gaps. 

Evaluate Specific Training Methods

This is critical as it involves reviewing and redesigning your existing sales training program if you have one. The Asanify AI engine helps you customize your program with its multimedia support. You can pick from texts or audio files to suit the needs of your salesforce.

Ask the Right Questions

 These are some of the questions you should have answers to towards the end of your program design efforts:
-Have you overlooked creative sales training? 
-What additional training is required? 
-What type of reinforcement will you use to improve skill memory?

Asanify's AI engine works on research-based learning techniques which ensure maximum skill retention. It also facilitates easy product summaries to enhance product knowledge of your sales team.
Set Goals

Even though you may have a lot of goals you want to achieve with your sales training program in terms of statistics, focus on a few basic ones first. Your program should seek to provide good quality training which increases sales and organizational productivity. It should also provide the scope for creating and exploring new sales opportunities to enhance knowledge and skillsets. Basically, your sales training program should be a resource that you can and your salesforce can rely upon.
What can you do to make training content engaging?
So you have designed your stellar training program and can't wait to roll it out. But wait! Have you paid attention to the content within the program?
Content is the most significant aspect of any learning. However, in training it helps build added authority. Hence, always invest in content development and strategizing.
Topic Selection and Analysis
It is recommended that you take the help of Subject Matter Experts (SMEs) for this process. This will ensure that your content is crisp and engaging through readily available resources. Furthermore, provide real-life examples and case studies to support each learning outcome.
Content Presentation and Development
The content must also be visually appealing and simple to grasp at the first go. Some basics to keep in mind are:
Easy-to-follow instructions
No jargon
Consistent formatting throughout the material.
Evaluate Learning Outcomes
It is also important to evaluate the goals your content intends to achieve. Does the content provide useful insights with the corresponding training goals? Is the content relevant to assessing the user's knowledge? The Asanify automagically creates quiz from any training material. Thus you can immediately evaluate learning outcome.
Asanify Automagical Learning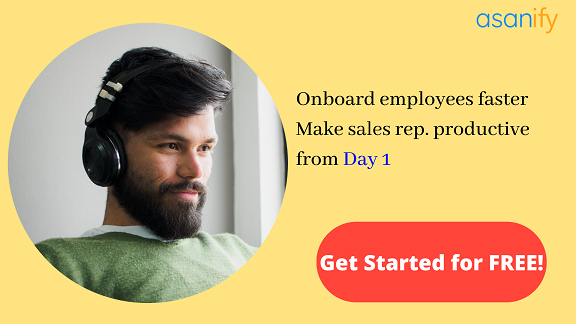 How to measure the effectiveness of sales training?
Consider this a bonus section. All your effort in designing an awesome sales training program is only worth it if you can evaluate its true effectiveness. Therefore, evaluating your program helps sustain the attained skills. 
Be clear about your intentions and measurement strategy
For most organizations, sales training programs are ongoing and cumulative in nature. It is also important to factor in your training budget. If you are a startup, you might have to reduce costs elsewhere in order to build a good training program. Thus, it is necessary to define and discuss the important sales metrics that you will analyze and base performance on. 
Engage with your sales team
Interact during the course of the program to understand what they are experiencing. Ask them whether they enjoyed the process and had memorable learning. You can also include metrics such as course ratings, confidence, and net promoter score. But the most crucial part is evaluating whether there is a change in business outcomes. The Kirkpatrick Model is used by many organizations to measure and analyze training effectiveness. 
Regular Assessments for Consistent Evaluation
While conducting assessments to understand the effectiveness of your training program, consider 4 points from the Kirkpatrick Model:
Reaction
Discuss the strengths and weaknesses of the program. Importantly, try to get insights into understanding the learner's pace and styles.
2. Learning
Analyze whether the obtained learning has influenced performance KPIs. Moreover, provide course certificates on completion to motivate trainees. Set up a feedback forum where questions can be raised that can be answered by supervisors.
3. Behaviour
Spend time on understanding whether the program has had a positive attitude change in the employee. Use multiple methods such as self-assessment questionnaires, focus groups, surveys to evaluate effects on behaviour.
4. Results
Although this seems like the core evaluation criteria, ensure you carry out the ones mentioned above as well. Outline important metrics that can be measured before and after the program. Some examples are:
Employee Productivity
Employee Retention
Improved Business Outcomes
Customer Satisfaction
Conclusion
In conclusion, I hope you are now able to appreciate the significance of sales training. As we have seen, there are several ways to train your team which offers you sufficient training scope.
With the detailed sections on the components and step-by-step guide to design your own program, I'm sure you'll have an easier time now.
Also, don't forget to pay attention to your training content (Content is King, remember?). Furthermore, conduct regular evaluations of your program to understand its effectiveness.
FAQs
What is sales training process?
Sales training is the process of improving selling skills, increasing knowledge and understanding customer behaviour. All of this helps grow overall sales activities.
What should be included in sales training?
Sales training should include various components. It should consist of resources that enhance product and market knowledge, selling techniques and regular assessments.
How do you prepare for sales training?
Make sure you understand the different kinds of training materials that are available. Gather feedback and relevant data to understand how to design your program. Always prioritize according to the company's and salesforce's needs.
What makes a good sales trainer?
A good sales trainer must be a good seller and instructor. He/she must possess the practical knowledge and relate it to the training material. A good sales trainer must have strong selling, communication and facilitation skills.
Why does sales training fail?
Sales training can fail due to several reasons. Sometimes the organization doesn't give it enough importance. It can also fail due to poor quality content, or lack of motivation. To ensure sales training doesn't fail, invest time and effort in designing an effective sales training program.
Not to be considered as tax, legal, financial or HR advice. Regulations change over time so please consult a lawyer, accountant  or Labour Law  expert for specific guidance.