Cloud hr software have become tools for Indian startups and SMEs to survive post COVID-19
The world in 2020 looks very different from what it was in 2019. As a fresh graduate, I feel robbed of the chance to say goodbye to my dear friends. Many of them are about to start their first jobs. In addition to no Good-Byes from college friends, they may not also hear any Hellos from their new colleagues.
From colleagues to customers, the lack of personal touch makes for a strange new world.
So how is the new world different post-COVID-19?
HR, Finance, Sales, and Marketing processes need to be operated in the cloud
Given the level of uncertainty, processes need to be just in time to reduce waste
People all over the world expect and demand a digital mode of communication
Now that you're caught up with the major headlines, let's dive deeper into how you can use technological solutions to ensure your HR Processes can stay afloat. Here's what I have covered in this blog:
What is cloud hr software?
Let me give you the highlights:
"Cloud" encompasses the delivery of key services – including storage, databases, analytics, etc. over the Internet (aka the 'cloud'). Cloud applications are cost-effective since you only pay for selected services. As a result, you are not only lowering your operating costs but also running processes efficiently. Using cloud hr software makes your day-to-day tasks such as attendance tracking and payroll management simpler and faster. Not only that, cloud hr can automate repetitive tasks which saves valuable time and enhance agile work methods.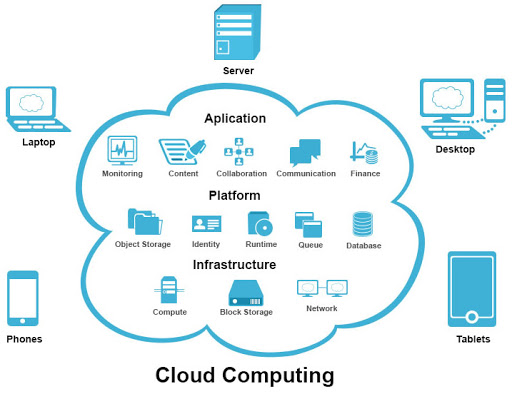 What is Cloud HRMS?
A cloud HRMS is a Human Resource Management System that works on the internet or 'cloud.' It is an extremely useful tool as it takes care of several HR functionalities such as hiring, attendance management, payroll, and performance management.
Cloud HRMS is cloud based hr that software that eliminates the chances of human error and makes HR truly efficient. HRMS is the wide term given to tools that provide specific HR services. By making your HRMS cloud-based, you will be able to save time, increase storage, and maintain data security along with remote access.
What is the difference between HRMS and HRIS?
Simply put, there is no difference. HRMS stands for Human Resource Management System while HRIS stands for Human Resources Information System. Both HRMS and HRIS help make HR processes efficient, productive, and accurate. An HRIS or HRMS also keeps your records secure and helps achieve overall business goals through complete automation. Thus, the improve conventional processes and increasing the possibilities of making strategic decisions.
What is the difference between cloud HR system and On-Premise?
As we have seen, cloud HRMS works on cloud computing. It offers enterprises flexibility and efficiency. You not only save time and money with cloud HRMS but also improve the agility and scalability of your business. On the other hand, on-premise software is installed on an organization's servers and behind its firewall. On-premise HRMS was the only option for companies for a long time. While it may still adequately serve your needs, there is widespread consensus in the HR community to shift to new Cloud and SaaS HRMS applications.
Now that you're familiar with the basics, read on to know why you should jump onto the cloud-wagon too!
Why should I not continue running HR and Payroll on Excel?
In case you are just starting out – you may be running payroll manually. Here's a helpful guide on how to run payroll in excel. However, there are a lot of disadvantages to this approach.
High Cost: You might be losing a lot of money. Manual processes waste time that could have been used to grow your business.
Competitive disadvantage: Cloud adoption in India is growing at a massive pace so your closest competitor might have a cost advantage over you. According to a survey by IDC USA, 64% of Indian organizations are likely to adopt cloud tech for the future of HR. 
Poor employer brand: Your employees and customers expect any good business to have a digital process so you may face churn if you don't adopt cloud technology.
The digital world is ever-evolving and if you're not part of it, you'll be left behind in these turbulent times.
How to select cloud based hr software?
Just a note of caution here – there is no 'one' best Cloud HR solution for everyone. Your needs might be very different from what many other companies have. So it is very important to evaluate the best solution for you in a very objective way. Selecting HR hosting software can be a confusing process. So, I have listed the 4 key criteria you should look for: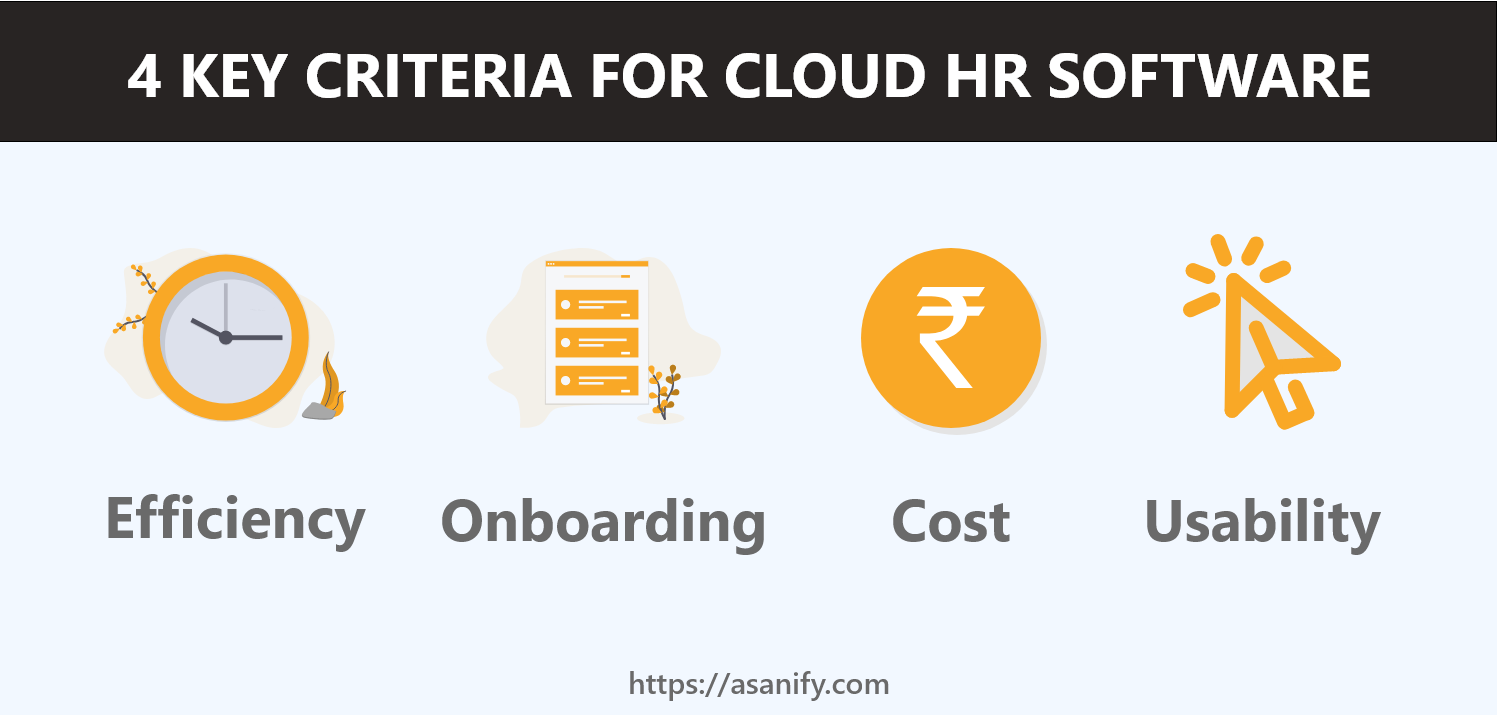 1. How much time will I save?
You'll be saving hundreds of hours by investing in an all-in-one cloud-based HR software, powered by the magic of automation.
You will no longer have to deal with the hassle of manual statutory payroll compliances around EPF, ESI, LWF, and TDS. If that's not tempting enough, customized polls and surveys will help in employee engagement when employees are feeling the stress of remote working. Look at this way: your cloud companion becomes an additional HR Assistant.
Additionally, by comprehensive compensation management, you can run payroll faster than ever before with no scope for errors. The provisions of getting detailed salary structures and payment details are simply the icings on the cloud cake! This reduces the complexity of implementing daily repeated tasks.
Your HR team has many responsibilities. By saving time on everyday tasks, it will be able to allot valuable time to focus on surviving COVID-19.
2. How easy will onboarding be?
Yeah yeah, I get it, how can the word 'easy' ever be followed by 'onboarding'?! Hold on, let me explain. There are ready-made templates in good cloud HR Software. Most cloud HR software also allows you to upload past data on the website very quickly. Asanify allows your team to sync all data directly from Excel and Google Sheets. Onboarding will become a very delightful process. You may check this out for a guide on employee onboarding. Many of the tools allow self-service access to employees directly from the portal. Some companies provide direct training services while the best cloud HR software will have an intuitive interface that makes onboarding fun.
3. How much will this cost me?
Now that I have your attention, allow me to further my point. It makes so much sense to have your entire HR processing onto a cloud because everything I've mentioned so far saves a lot of bucks. Instead of purchasing hardware that makes dents in your pockets, you are simply ordering software based on your storage and data needs. All of this comes at either temporary access fees or highly reasonable packages. Payroll processing errors can become very expensive and carry significant fines. So an automated HR cloud-based software can definitely save money in the long run. The pricing for HR software cloud typically starts from INR 50 per employee per month which is highly affordable.
4. How easy to use will the software be?
You've probably wondered if this was possible and I am here to tell you that you were not wrong. Best Cloud-based HR platforms gamify and conversationalize your entire user-interface for a seamless adoption. Wait there's more. Chatbots, our cheery online friends are part of your HR interface thanks to the cloud! Chatbot interfaces provide unmatched convenience and add the human element back to HR. It's an easier approach to improved customer service and employee engagement. Not only that, but the chatbots are also available 24*7, so you can multitask all day! Any good HR software cloud provides an intuitive interface for employees to log in not only on the website but also on the go in mobile. The best ones also allow employees to access HR Services directly on Slack and MS Teams.
What are the best cloud hr software in India?
While there is a plethora of cloud HR software available in the market, here are some of the top ones:
Asanify: India's leading Cloud HR Software that has revolutionized software onboarding. Customers can launch it in minutes, instead of taking days. It has several global first features:

Direct sync (import, create, update records) from Google Sheets
Interactive reporting and querying of payroll statutory compliances
HR process automation, and cutting edge AI chatbots, etc.
Beautiful screens and gamified employee experience
Complete self-service for both employee and admin
Role-based access control
Ready-made and custom integrations with various finance ERPs such as Zoho Books, QuickBooks, etc.
Integrations with best CRM for Startups

It allows any company to leapfrog its competition by unlocking employee productivity. It fully supports remote employee onboarding which is essential during COVID-19. This makes it a truly integrated HR hosting software. Entire employee experience from attendance to appraisal is supported via chatbots and tools such as Slack and Microsoft Teams. You can get more details here.

Kredily: Kredily enables employee, document, and payroll management.
Keka HR: Keka's To-Do- Task Management and customized polls and announcements save processing time. Its Employee Onboarding and Exit service is also within the software
GreytHR: GreytHR is another HR software with payroll and statutory compliance processing. It's Employee Self-service and Self-onboarding Portal makes the process easy.
Zoho People: This is an HR processing and employee service software. It includes onboarding, attendance management, and time tracking. It provides a comprehensive set of small business software such as Zoho Books, Zoho CRM, etc.
In conclusion
By the end of this article, you now have a clear understanding of what Cloud HR Technology truly is. It is clear that utilizing cloud HR Tech for your business makes important tasks seamless and efficient. If your business is still using conventional tools like MS Excel for HR operations, I would recommend taking a closer look at the innovations in HR technology (#hrtech).
I have also given you an overview of the criteria to keep in mind when investing in software to help narrow down your choices.
So what are you waiting for? Shift your HR systems onto a one-stop cloud software now to do more with your day and reach your goals faster. Get started today!
Not to be considered as tax, legal, financial or HR advice. Regulations change over time so please consult a lawyer, accountant  or Labour Law  expert for specific guidance.