Remote work/Work from home has become a prevalent working model for most organizations around the world during the pandemic. Therefore, HR teams have to adopt new technologies, such as attendance tracking and geofencing, to monitor and keep track of employees' locations.
How? Let's have a look!
Meaning of Geofencing
A geofence is the virtual perimeter for real-world geographical areas, according to Wikipedia. So, we can set it actively (as in a radius around a point) or it can be a pre-defined set of boundaries (school zones or neighbourhood boundaries).
In HR parlance, applying this virtual perimeter around your office's geolocation is called geofencing. One example of this can be a location-aware device of a location-based service user entering or exiting a geofencing boundary. So, this activity could trigger an alert to the device's users and message the geofence operator.
An example of geofencing
Companies can use geofencing to provide exclusive deals and personalized experiences for their customers. 
Location-based marketing is one of the most used cases of geofencing. For example, a restaurant can trigger push notifications for special discounts when their customers walk past. 
Similarly, a retail store might send notifications about deals when they are shopping at their mall. 
What is geofencing in HR?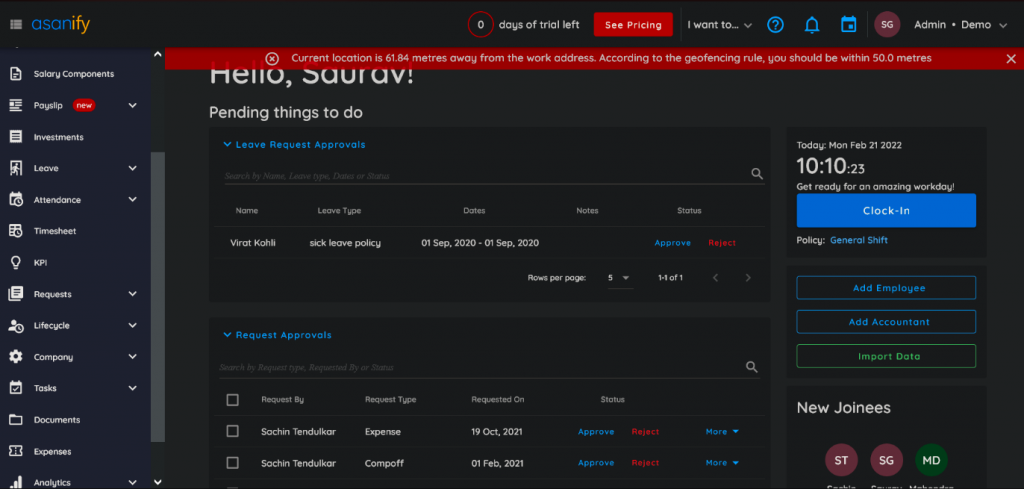 Marking attendance has come a long way from the obsolete way of physically punching in or out to a more efficient way of marking attendance with just a click of a button on your mobile or PC. We have more in store for accurate tracking. Briefly, we can define it as a time management system with geofencing capabilities that helps you track employees' attendance in real-time.
Geofencing is a location-based service in which an app or other software uses GPS, RFID, Wi-Fi, or cellular data to trigger a pre-programmed action when a mobile device or RFID tag enters or exits a virtual boundary set up around a geographical location, known as a geofencing.  
Similarly, this feature allows admins to set up virtual boundaries within a geographical area where employees may clock in or clock out. Also, employers can define an unlimited number of zones and assign them to employees based on days of the week, time of the day, and more.
Therefore, this lets you define where and when employees will clock in or clock out, which provides transparency, ensures the safety of employees and improves communication.
As a result, geofencing technology helps you manage the attendance of your mobile workforce efficiently.
Also Read: How to create an Attendance policy easily (with template)?
Types of geofencing
Geofencing has a lot of practical applications for a variety of industries. But have you ever thought of checking where your field workers are when they clock in or clock out? With geofencing, admins can track the movement of their field workers and notify them when and where they are going.
Also, there are a wide variety of benefits to implementing a geofencing system. But you need to understand which works for your organization. For instance, Some applications of geofencing are:
Blast zones

Yard and site

Confinement

Emergency

No-go zones

Speed limiting
How does geofencing work?
One can draw a geofencing boundary around a site on a map to track employees' time in the attendance tracking software, such as Asanify. After that, you can use the Asanify attendance management system to assign your staff to designated areas.  
The system helps track employee attendance. Employers can assign geo-fences to their employees and they will get attendance data only when they clock-in and clock-out within the geofenced area.
What is the purpose of geofencing?
The possibilities of utilizing this method for an organization are limitless. So let's have a look at how geofencing uses the GPS of a smartphone to accurately and effectively mark attendance.
For instance… 
SMEs can use geofencing to save the enormous costs of hardware and improve efficiency
Cost savings are important for small and medium enterprises (SMEs). These companies use attendance software to improve accuracy and work efficiency. Therefore, with software such as Asanify, these companies can not only save cost but also reduce error with minimum or no hardware requirement at all. 
Medium and large-sized manufacturing companies with factories in remote locations too benefit from geofencing
Companies with plants in different locations may find it difficult to track their employees' attendance. It would incorporate complicated systems with complex hardware and software systems. There is a constant threat of something going wrong with the system. Therefore, with a geo fencing attendance system in place, they can mark attendance with a web app or employee portal. 
Companies with employees assigned to different sites can utilise geofencing
Organizations with staff working in different locations temporarily is where geo fencing comes to the rescue. Because admins can assign their employees' virtual boundaries within which they can be considered on-site. After that, whenever an employee clock-in or clock-out, the system will track their location.
Issues with physical attendance systems can be overcome with geofencing
Many a time, physical attendance systems may develop problems that are out of control. You can minimize these errors with the attendance software as no hardware is involved. This ensures accurate attendance every time, with no extra cost.
How is geofencing used for automated employee attendance?
Asanify implements this technology to track employees' working hours and attendance when they're working remotely or on fieldwork outside the office. This usually applies to employees who are away from the office for business trips, seminars, conferences, or client meetings. In times like these, attendance tracking software can help businesses ensure the safety of employees while working from home or any other predetermined location.
To use this function, the employee's reporting manager must set and assign geofence to each employee. If employees remain within the pre-defined area, their attendance will be automatically recorded with the help of the attendance tracking software.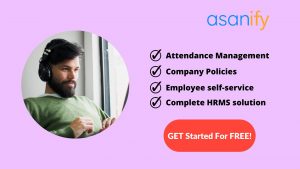 Applications of geofencing
Geofencing has become a conventional practice for businesses with the growing popularity of mobile devices.
There are endless opportunities for a company once you assign the virtual boundaries. Geo fencing has become increasingly popular in marketing and social media.
Here are the common applications of geofencing:
Human resources – most of the attendance software relies on geofencing to automate and track employee attendance. Therefore, organizations with remote or field workers find it very helpful in tracking their employees.
Security – Geofencing can bring more security to mobile devices. For example, you can set your phone to unlock when you are at home or to get alerts when someone enters the house or leaves.
Marketing – we can use this technology for location-based marketing. Since it will send promotional offers or coupons when a customer enters your store. It may also help with location-based advertising targeted to specific users.
Smart appliances – with technology becoming smarter every day with Bluetooth capabilities. It is easier than ever to program your fridge to remind yourself that you are out of milk the next time you pass by the store.
Social media – location-based filters, stickers and other shareable content are all possible because of geofencing. 
Why should you use geofencing?
Geofencing boosts efficiency and ensures the productivity of your employees. Many workers believe that tracking helps them to be more effective and stay motivated. Which as a result increases productivity and helps them achieve success. 
It not only helps in clock-in and clock-out effectively but also fetches the pinpoint location of your worker. So, it can assure the admin of who was working and for how much time ‌‌to complete a project.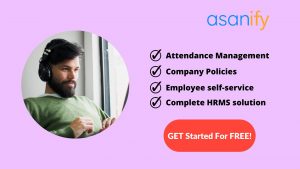 Why is geofencing so effective in monitoring employee attendance?
Geo fencing has become a great boon for HR teams to track employees' time. So, let's see the benefits:
It isn't just for clocking in and out.

Attendance software uses GPS to pinpoint the exact position of an employee.

Eliminates old methods to mark attendance in paper or excel spreadsheets.

There's no need to keep a count of people who enter and exit the office at the end of every month.

Provides the ability to create multiple fences with substantial geographies

Consolidated report on employee attendance

Monitor and keep track of employees for compensation

Keep track of staff hours per project.
What are the top 10 benefits of using geofencing?
There are some distinct advantages of real-time attendance tracking using geo fencing technology that Asanify HRMS offers. So, let's check them out!
Enables organizations to capture the attendance of their employees from any location.

Enhanced productivity of the workforce

Simplified process of real-time attendance tracking for employees

Transparency in the process of employee attendance management

Real-time monitoring of employee productivity

Designed to help businesses of all sizes

Detailed reports for easy analysis of employee attendance

Aggregate employee billing based on worksite attendance records and electronic timesheets.

Effortlessly integrate attendance data with payroll and leave modules.

Lastly, employees can mark their attendance via a mobile web app once they enter the building or its defined radius.
How can organizations benefit from applying geofencing technology to their field activities?
1) Geofencing helps prevent vehicle theft
It is usual for company vehicles and assets to be stolen. Because company assets are expensive, they must be safeguarded to prevent them from being harmed or misappropriated. So, when a vehicle trespasses in a geofenced location, geo fencing helps to secure organisational assets by sending out regular alert notifications. This also puts a stop to vehicle theft.
2) Geofencing can mitigate expenses
Field management software that incorporates geo fencing technology can help reduce fleet, fuel, and time waste. Geo fence warnings ensure that your delivery drivers and agents do not end up in the wrong place. If your agent types in the wrong address, the geofence feature alerts him and directs him to the correct area. As a result, you save time and money by travelling to the proper location and reducing car and fuel consumption.
3) Geofencing provides added safety
You can track your vehicles and agents in real-time with geofence. This gives you total visibility into your field resources' movements. If an event occurs outside of your geofencing perimeter, you can rapidly locate your drivers and field agents and assist them. This helps in ensuring safety in the event of an emergency or an unwelcome situation. Therefore, it reduces the likelihood of vehicle theft and time waste.
4) Valuable data can be preserved through geofencing
You can get full reports with time stamps and validations for all geofenced locations. This provides management with a detailed report of how the driver and agent use their time in the field, including whether or not they have crossed any borders. It also gives users access to extensive fleet reports, which aid in determining the total return on investment for routes, workflows, and other factors. With such granular data on performing geofenced areas, the organization can further determine the improvement roadmap and design new geo-fenced territories.
5) Scheduling adherence can be ensured with geofencing
Meeting SLA deadlines is critical to your field operations. Companies can use geofencing to ensure that these timetables are not jeopardised and that the agreed-upon schedule is followed.
Geofencing alerts can monitor whether or not the designated routes are being followed. Following the best process, as well as designated time stops, is crucial in the case of several deliveries. As a result, your field operations schedule will not be disrupted thanks to geofence triggers.
6) Simplifying communication with the help of geofencing
Geofencing aids in identifying communication issues in the field, whether it's coordinating a specific field task or tracking SLA violations.
Field management software that includes geofencing technology can assist send out triggered communications to ensure that fieldwork is conducted as efficiently as possible. This could be sending a push message to your customer when the delivery person arrives at a location near them, a push notification for a return shipment, or just a route-related update.
Similarly, to improve the quality of communication in the field, we can set up geofencing. Therefore, this will also prevent many back-and-forth calls for clarification, allowing the field process to proceed smoothly.
Mobile login with an OTP for on-the-go staff
With real-time reports, you can keep track of attendance.
Similarly, for improved planning, use a smart dashboard to examine staff attendance, holidays, and leave calendars.
With timestamps, accurate geo tracking options are available.
Set up a geo-fence around your office to allow access only from within the building.
On the same day, several time stamps and location tags are available.
End-to-end attendance management is simplified: Making policies, granting access to employees, tracking, and reporting
Also, employees and their reporting managers get automated reminders and system notifications.
Policies that may be customized to fit any situation, including night shifts
Assign various policies to different people and teams as needed.
Similarly, make use of Asanify's pre-made attendance policy templates.
It helps you save time. There is no need for manual coordination when it comes to keeping track of work hours.
Asanify simplifies payroll computation. So, payroll and attendance work in harmony.
Also, geofencing allows you to track an employee's presence or absence in real-time.
Summary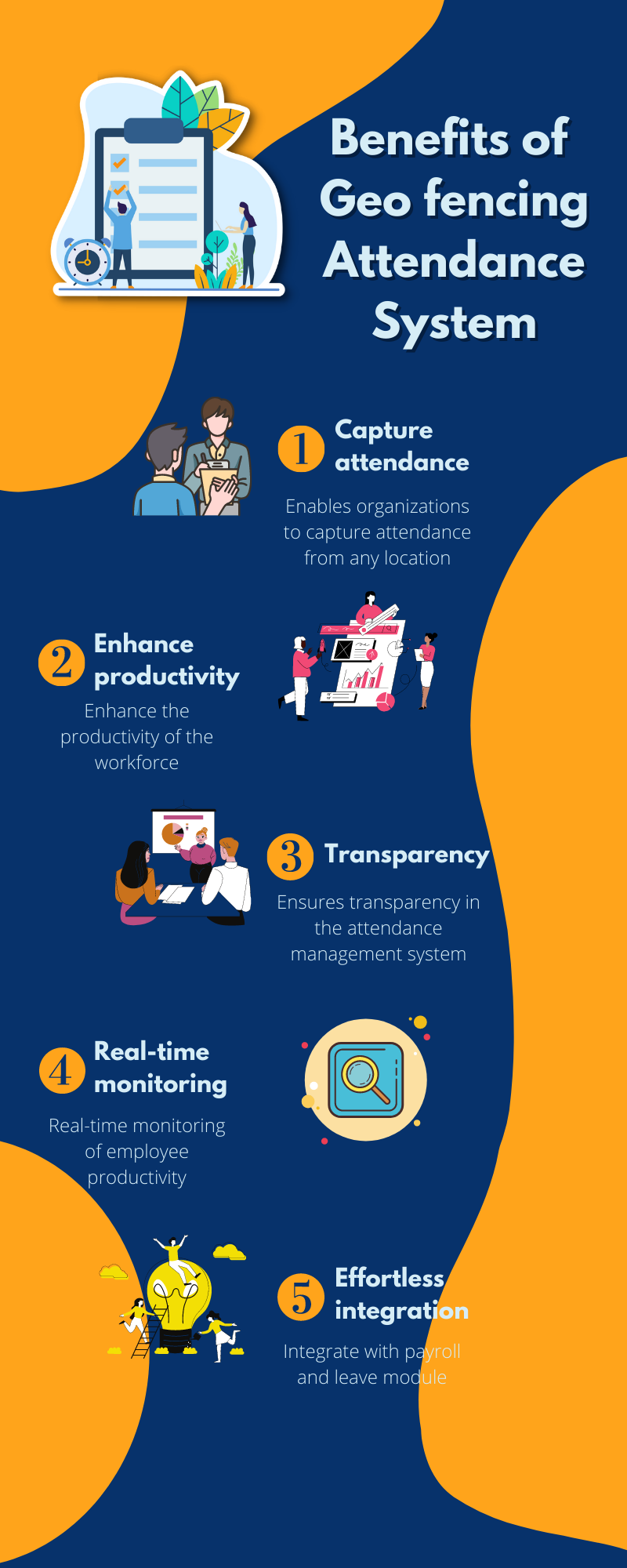 Geofencing – Frequently answered questions
How does geofencing work in employee attendance?
Attendance will be fetched only when they clock in and clock out in that encircled area.
What is the best attendance tracking software with geofencing?
Asanify is the best attendance tracking software. Over 1500+ startups trust our attendance management system.
Is employee tracking software or geofencing only for remote work?
No, the employee tracking software can be used in the offices for employee's log-in and log-out (attendance) records.
Does employee tracking software or geofencing require internet access?
Yes, employee tracking software requires full internet access to fetch employee availability.
What is the purpose of geofencing?
It helps track an employee's location at the time of clock in and clock out to ensure that these activities were carried out within the stipulated geofence (location allotted as boundary within which work takes place)
Not to be considered as tax, legal, financial or HR advice. Regulations change over time so please consult a lawyer, accountant  or Labour Law  expert for specific guidance.