There are many advantages of leaving your physical office and setting up an online accounting firm. You can save time and stress by avoiding the daily drive and can enjoy more time with your family. You can also save money on traditional office expenditures by claiming a significant amount of business expenses to cover the cost of working from home.
Literally, nothing stands between you and your online accounting practice. Automation, collaboration, and connectivity-supporting hardware are all within reach. You'll be able to service your clients in ways that were unheard of five years ago because of the lack of modern apps and technologies back then.
What is online accounting?
The term "online accounting" does not have a definition; it simply refers to the changes in accounting that have occurred as a result of computer and networking technology. The majority of online accounting services are available as software as a service (SaaS).
To assist you in performing business accounting operations, online accounting makes use of internet technology such as your web browser and smartphone. It takes the place of traditional accounting software, spreadsheets, and manual paper-based systems.
Online accounting via web application is typically based on a simple monthly charge and zero-administration approach to help businesses focus on core activities while avoiding the hidden costs of traditional accounting software, such as installation, upgrades, data file exchange, backup, and recovery.
Benefits of online accounting (taking your firm online)
Lower your overhead costs at an online accounting firm
You can get up and running with an online accounting firm for a fraction of the cost of a traditional firm. You and your employees can work from home, saving money on office rent or mortgage payments. Computers, software, and basic equipment are minor expenses as compared to the cost of providing physical infrastructure. Whether you're beginning from scratch or looking to expand your existing business into the online world, an online accounting firm is cost-effective and efficient from beginning to end.
Increase the number of clients at an online accounting firm
When you own an online accounting firm, you have more options when it comes to whom you can serve. For a location-based business, your service area is usually limited to the distance that your staff or clients can travel. There are no restrictions on whom you can serve with an online accounting firm.
An online accounting firm provides clients with smart, efficient services
Getting your accounting firm online with the right technology will not only increase your team's convenience and productivity but also the quality of service you can deliver to your clients. You'll be able to communicate easily utilizing online tools, exchange documents digitally with your clients, provide easy-to-complete surveys, and hold virtual meetings once you've optimized your firm for online work.
Also Read: Customer service software: How does it benefit your small business?
An online accounting firm saves paper & other office supplies
Having a virtual office means you won't have to spend as much money on office supplies, such as papers and other supplies. Many businesses are already shifting to paperless operations. Just make sure you invest in ‌cloud-based software that allows your employees and clients to easily exchange data and tax forms. There are numerous paid internet providers that provide cloud document storage.
Online accounting allows you to hire the greatest people from all across the world –
Finding good workers for an on-site accounting business might be tough, but with an online firm, you can widen your search globally. It's also possible to hire personnel in tier-2 cities, sourcing talent from all around the world. Many talented individuals are opting to work from home.
You could also download our e-book on startup hiring by clicking here!
How do I get clients for my online accounting firm?
1: Market your online accounting services with a good website.
Your website should serve as an online headquarters for your company. You can then link your website to all of your other online accounts, including social media.
2: Join LinkedIn Groups for Business and accounting.
LinkedIn is far more focused on business than Facebook. It can serve as one of your "shopfronts," allowing your online accounting firm to swiftly engage and interact with thousands of other businesses.
3: Online directories for accounting
Although directories no longer hold as much weight as they once did, it's still worth adding your information to the most well-known ones.
4: PPC campaigns (Pay Per Click) for your online accounting firm
In a couple of hours, you can get ultra-targeted, local leads visiting your site, calling your business, or downloading your marketing materials with PPC campaigns on google.
How to make my CA firm an online accounting firm?
You should ask yourself these five questions before giving notice on your office space or starting an accounting firm online.
What online accounting services can I deliver remotely?
Most of the accounting services you do from your office can now be done online. Tax, compliance, and bookkeeping services can all be performed efficiently from virtually any place, thanks to cloud technologies that are simple to use.
However, before you jump in, consider your clients' requirements. Some people prefer to meet in person to address their issues, therefore it's worth looking into whether office space is available for rent on a daily or hourly basis nearby or you may ‌accept to work in clients' offices temporarily.
What kind of technology and equipment are you going to need for your online accounting firm?
Working from home (especially an online accounting firm) takes more than just a computer and a reliable internet connection. Consider the office equipment you presently have, such as
Desktop computers, laptop computers, and tablet computers

Printers and scanners

a telephone system

Storage of both physical and digital records (filing cabinets and servers)

Flexible chair and a comfortable desk
Consider hiring an IT consultant on a regular or ad hoc basis. This can reduce some IT-related stress and uncertainty.
You'll need to look into what cloud apps are available for storing the data you presently have on your PC's hard drive or on your company's server. Also, think about your clients' technologies and how they'll share their information with you.
What method will you use to organize your work at your online accounting firm?
If you're a single business person, you probably already have a system in place for keeping track of your daily and long-term tasks. If you outsource work on a regular basis or have employees, you'll need to assess how things are done in order to make the switch to online working go smoothly.
Understand how you currently handle connections among your employees, clients, and yourself. Think about what you'll need to do on a daily basis to keep these relationships going strong. Using project management software to ease the burden and minimize stress levels is a smart idea.
What communication tools are available to you as an online accounting firm?
Email and phone contact are the most common methods of communication, but there are other options as well. Video call software is widely available and inexpensive — in fact, they are sometimes free. Zoom, Google Meet, etc. for example, are fantastic for keeping in touch with your employees and customers.
You may obtain rapid replies from employees without having to phone or email them using communication tools such as Slack or Microsoft teams. Staying active and collaborating remotely is also made easier with online tools like Google Docs.
What will you do to let people know about the change (your shift from offline to online accounting)?
Clients and workers may need some convincing (that your online accounting firm is more effiecient), especially if they have been used to a certain way of working for a long time. You can persuade people to change their minds if you explain things properly in terms of security, practicality, and benefits such as cost savings.
Whether clients are hesitant about the transfer, suggest giving it a month to see if they like it. Making the decision to work from home may have a good impact on your work habits, lifestyle, and job satisfaction. Fortunately, the technologies are now in place to make it a better alternative.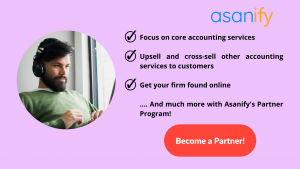 10 easy steps to go virtual and get your very own online accounting practice 
1. Automate your online accounting firm's back office – 
First, identify the right technology for your company to automate tasks that are currently executed manually.
Next, link the applications by utilizing existing integrations to connect them to other apps that you currently use.
Take some time once the systems have been installed to simplify how they function for your staff. You may achieve this by determining and writing down your company's preferred method of using these applications.
Training everyone to utilize the apps consistently might also be a component of the strategy. To get everything to function exactly the way you want it every time, you may need to make some changes to the default settings.
Now comes the fun part: sit back and relax as automation takes care of everything without your intervention!
2. Operational restructuring
–
You want to provide a fantastic customer experience, but your slow operations are preventing you from doing so. There are a few strategies that can help you get this part of your virtual practice up and running.
When you encourage clients to text you, you may automate conversation and cooperation. Everyone texts these days, so make it easy to collaborate with you. You may also include a widget that allows visitors to text you directly from your website.
Calendly makes it easier for your clients to arrange an appointment with you. You may connect either to your online calendar and then give a link to others so they can see your availability. The back-and-forth emails and phone conversations that used to be a part of the scheduling process are no longer necessary.
You might go across town for the meeting or use a video conferencing software like Zoom to communicate with clients from wherever.
Look to the cloud for practice administration, time and billing, tax preparation, and workflow tools.
There are several fantastic new practice management tools available that will help you increase income and obtain a better understanding of your organization.
3. Existing clients can get a discount if they go remote with your online accounting firm
–
If they resist, explain that you will still be able to serve them as an online accounting firm, and may even be able to serve them better because you will not be wasting time going from one appointment to the next all day. You can calculate your fuel, time, and mileage savings and pass them on to your clients as a decrease in their monthly flat costs.
4. Ask your clients to switch to remote work
–
Find a method that works for you, and explain to potential clients what your approach involves and what advantages they may expect. If there is hesitation, you might offer a "one-month free" option.
5. Choosing the right Hardware for your online accounting firm – 
With the correct hardware, your team can have a successful virtual practice. They may not understand what they've been missing until they pull their new device out of the box.
Increase the size of your displays. No more side-by-side monitors or rotating heads to get all the information you need.
Provide laptops and tablets to employees so, they may work from home, on vacation, or anyplace else. To optimize your return on investment, invest in powerful performance and storage. It will make your coworkers happy, assist them in getting more done, and make client meetings more fruitful.
Do you want to turn everyone's smartphone into a virtual-friendly device? Before you choose a model, think about the rest of your ecosystem. To avoid data breaches, make sure your employees are trained on mobile device security and sign your mobile device policy.
A decent scanner and headphones can help a lot. You'll want a scanner that's quick, small, and can scan double-sided documents. On a video conference, avoid being the fellow with lousy sound. It doesn't matter whether it's wired or wireless as long as it works; the details are up to you.
Don't forget about the extras! It's the tiny things that will determine whether your online accounting firm succeeds or fails. A battery pack, extra power adapters, and a multi-port USB charger, in this instance, are a finishing touch that makes your technology more convenient while keeping you focused on your clients.
6. Specialize – this is the key to making your online accounting firm grow 10x
Find a speciality – whether it's software programs, a feature (Inventory), or an industry (health care providers), ensure your online accounting firm specializes in something and becomes an expert in it. Do this so that when people in your network think of this specialization, they only think of you.
7. Form strategic partnerships – 
Collaborate with individuals outside your business to find high-quality service providers and goods that you can utilize and promote to your clients, as well as people with whom you can swap recommendations.
8. Create easy collaboration opportunities for your online accounting firm
 – 
It's never been easier to collaborate especially online. Using tools means bringing employees together, and so, online accounting may save you numerous steps, literally from start to finish.
Invite your team to Microsoft Teams to collaborate on documents instantly and securely for any project's documents and spreadsheets. This will be far more convenient than printing and repeating each version. Lastly, sign everyone up on Slack to prevent the "reply all" flow of useless emails. This program will assist your team in coordinating on "channels" that are divided.
9. Create a website and write blogs to gain traction
–
It's not necessary to update it every day; once a week or so is sufficient. Inviting clients, vendors, and coworkers to contribute material is a great way to start.
I bet that almost everyone you ask to produce a 300-400 word article would gladly do so. After all, who would refuse free advertising? 
10. Consistent connectivity
–
The online accounting firm's backbone is fast, dependable, and secure communication. Make sure your team doesn't have to wait for or wonder about your connection.
"Fiber, cable, or both?" is a question that has been asked since the dawn of the digital age. Because each location is different, you'll have to do some research to figure out what the quickest service is in your area. Because DSL and satellite are slower, they will have a significant impact on productivity. Yes, if you wish, you can have both fibre and cable. A little redundancy is never a bad thing when it comes to increasing efficiency.
For home office networks, the newest mesh technology is the way to go – just make sure to set maximum encryption to avoid a data breach. A VPN service can add an extra degree of security.
Not to be considered as tax, legal, financial or HR advice. Regulations change over time so please consult a lawyer, accountant  or Labour Law  expert for specific guidance.