Today, I'm going to talk about the key HR Responsibilities. Additionally, I will also analyze how Employer Reputation attracts the best candidates.  To clarify, Employer Branding is influenced by Human Resources across the entire 'hire-to-retire' employee life cycle. It is no surprise then that a deep dive into the functions of HR can only do you good.
Here's a list of what I'll be covering in this write-up:
                 iii) Remote Onboarding
                 iv) Policy and Compliance Adherence
                 v) Collaborate Across Departments
                 vii) Provide a Fair Compensation
                 viii) Improve Employee Engagement
                  ix) #Agile HR: Reduce Waste, Save Time
                  x)  Promptly Resolve Employee Queries
                  xi) Follow Fair and Transparent Practices
So if you are struggling to attract the best candidates – read on!
This article is also a break. A break from all the blogs you've been reading about COVID-19's challenges. You're welcome. 
Q. How have HR Responsibilities evolved over the years?
As with any subject matter in the world, our friendly HR also has an origin story. HR Responsibilities have evolved from just supporting an organization to strategically shaping a company's future.
Let us go back into the 1920s when the first HR department was established. The evolution of HR began with the Industrial Revolution. As innovation progressed, there was an increasing need for workers. This got the wheels spinning for policy formation, managerial functions, and employee motivation. The rise in jobs led to the creation of new HR responsibilities. 
It was not until the 1930s with the Hawthorne Studies that HR was recognized as a fundamental part of organizations. Behavioural science gained more attention. That in turn, developed the field of HR from scientific to personnel management. HR responsibilities now included maintaining records and resolving employee grievances. Management realized the role HR plays to gain a competitive advantage. Those were the 1980s. 
Globalization has caused an evolution in the working conditions. This led to the demand for stronger HR practices. Enter the 21st century. 
Human Resource Management (HRM) now came into existence. HRM became a popular organization function. It had no specific rules and mainly looked after conventional HR responsibilities such as recruitment and compensation. HRM gradually took on more responsibilities and became an important part of business operations. This paved the path for Strategic HRM.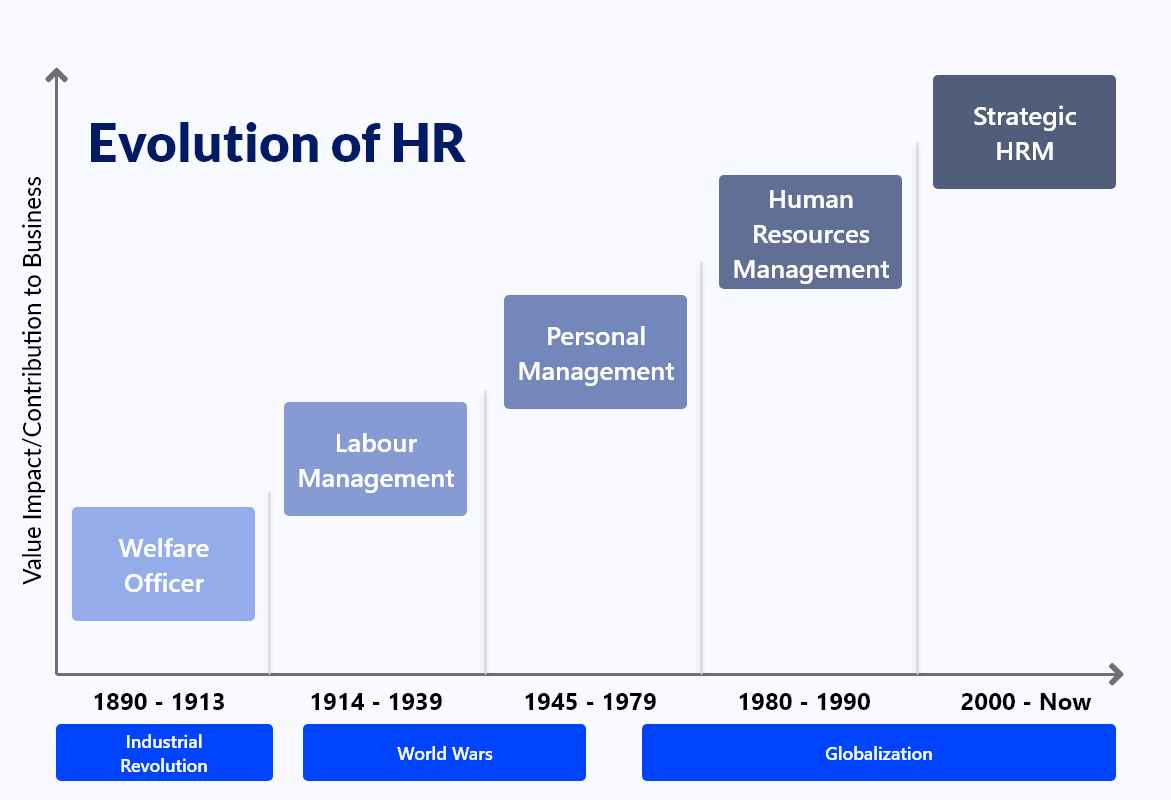 Q. What is Strategic HRM and how does it improve employer reputation?
Now we come to Strategic HRM. As mentioned above, the term refers to the deep influence the HR department can have in various areas. The areas of influence include the long-term objectives, goals, and strategies of organizations. HR ideally owns and influences the work culture in a company. This is done by improving innovation, flexibility, and performance. Strategic HRM works towards integrating organizational strategies with quality processes aka Agile HR. An effective HR department can enhance quality service, efficiency, and customer satisfaction. All of the above play a role in an employer's reputation. In fact, the future of HR is forecasted to play a core business function when it comes to aligning organizational goals with the goals of the stakeholders.
Q. How can HR improve employer reputation?
When most people think of HR, what comes to mind are: 'recruitment', 'training', or 'organizing events.' But many do not realize that boosting the organization's reputation is a core HR responsibility. Wondering how? Just a minute, I'll get to it. 
HR, by function, guards the image of an employer in the most basic way: IMPROVE EMPLOYEE ENGAGEMENT. This makes it much easier for you to garner attention from potential employees and show-off your great work ethic to the world. It ensures that everyone around you is happy which in turn helps your company build and sustain a positive image. 
Enter the trickle-down effect of People Management. When you have a team of employees in good spirits, you're instantly more likely to attract better employees to come work in your organization. Great people want to work with other great people. And vice versa. Role fitment aka having the right people in the right position also produces maximum benefits in the long run. 
Top 11 HR Responsibilities that Help Improve Employer Reputation
1. Determine Crucial KPIs
Before diving head-first into recruitment, there's an important stepping stone. You must start by answering the question "What recruitment parameters am I looking at?"
List down a few metrics such as: 
Source of hire
Time of hire
Applicants per hire
Quality of hire
Retention
This will enable you to have an easy and delay-free process. 
2. Proactive Recruitment
Firstly, make a good first impression that lasts! Yes, I'm starting with the basics. Everyone wants to get the best talent that's out there. The competition now lies within the recruiter market. This holds more true post-COVID-19 where the supply of talent has increased. A lot of qualified candidates are now looking for new opportunities because of salary reductions or layoffs. Additionally, many existing companies have reduced the demand for new hires. The process is driven by several factors such as work culture, connections, and obviously, reputation.
 If you think candidates do not do any research before applying to a job, you're mistaken. Potential employees base their decisions on development, culture, rewards, and leadership. You have to be the best when it comes to presenting job listings, carrying out interviews, and following up on candidature statuses. Your recruitment strategy has to be one that is shaped around stories and ends on brand value. The way you handle recruitment is a strong indicator of how you are perceived as an employer. 
Typical actions taken by employees include checking out the employer's LinkedIn and Glassdoor pages. So any HR is required to read public reviews and act on the same.
3. Remote Onboarding
"If you put effort into getting people to join your team, they will reciprocate by choosing to be in that team."
This is not a management quote, I said this. Here's why you should believe it. Your onboarding process is practically the best place for you to win brownie points. Make sure that the process is smooth. Additionally, make it easy for your hires to gather relevant information. Post COVID-19, having a contactless and seamless remote onboarding process is absolutely essential.
Try to recall your first day at a new job and the anxiety you may have felt. As a good employer, you must bridge that gap by refining your onboarding practices to help employees communicate effectively. Effectively, this helps them understand what is expected of them. Therefore, use innovative tools such as chatbots to define a set of onboarding actions. Fun games to give a great welcome to new employees go a long way in making them feel welcome.
4. Policy and Compliance Adherence
This is a complex field and an extremely important one. No one wants to work at a company with an improper legal framework or unstructured workplace policies. In order to sustain your reputation as an employer, you must be able to show that your employment practices are within the stated laws. 
Additionally, we hear cases of workplace harassment and discrimination every day. Do you see the accused organization in a good light? Probably not. Create systems that are against harassment, discrimination, sexism, and racism. Ensure that you have set of work rules in place to safeguard your people and their rights.  
The first step is to create appropriate policies. Typical examples include:
Employee Handbook
POSH 
Travel Policy, etc.
Note that a good cloud HR Software provides some ready-made templates. Also, understand the statutory compliances of your sector. The following are what you stand to gain: 
Firstly, legal protection to your employees.

Secondly, preventing potential harm to your reputation by avoiding fines and penalties. 

Thirdly, earn employee goodwill by enabling them to access a professional payslip. For instance, employees may need timely payslips for urgent loan applications.
5. Collaborate across departments
"The whole is greater than the sum of its parts." This concept from Gestalt Psychology can be used to explain organizational functioning. Your company is only as efficient as its combined operations. In other words, effective interdepartmental communication moves across teams for maximum productivity.   This also helps employees bond together.
For instance, step up your tasks of scheduling meetings, or assigning duties with a specialized HR software to share technology and information. As an employer, your image should be in accordance with the organization's vision and mission. As a result, creating a community that is collaborative and cooperative will indirectly strengthen your reputation. 
6. Build a Company Culture
I CANNOT EMPHASISE THIS ENOUGH. 
Your brand value directly reflects your company culture. A strong organizational culture is an indicator of a positive workforce and employee satisfaction. When you have a happy team, you have a good employer reputation. Simple as that. 
Regardless of where you lie on the "How strong is my company culture" question, experiment with new stuff. Maybe start with integrating new tech to empower and challenge employee abilities. Focus on enhancing the work experience which will help create organizational branding content. 
7. Provide a Fair Compensation
Yes, I'm bringing out the big guns now. Believe it or not, this can also help boost your status.  Compensation is a mechanism by which employees evaluate your image in their minds. It influences the motivation of prospective and existing employees. 
In addition, salary, insurance benefits, and job security are important in improving reputation management. Appropriate benchmarking and adding value are a sign of trust and reliability. To upgrade your compensation strategies, invest in a payroll management software that can also provide benchmarking insights.
8. Improve Employee Engagement
To begin with, relationship management is the way you maintain engagement with your customers. This includes all correspondences within and outside of your company. For the HR department – employees are the customers.
Additionally, Employer Brand in its broadest terms refers to 'people management.' A study carried out by Aon Hewitt in 2013 found that organizations with the most highly engaged employees have the highest reputation. I'll say it again, improve employee engagement. Therefore, offer proper services as you would to a customer. Build a strong relationship through honest communication and channels.
Finally, during COVID-19 use the available technology. Examples include HR chatbots, Slack, MS Teams, etc. to conduct engagement surveys and polls. The above helps HR keep a pulse of employee morale and engagement.
9. #AgileHR: Reduce Waste, Save Time
Earlier, paperwork ruled but now, technology is the new king. You have to adapt to changing times and update the way your business functions. No one wants to associate themselves with an organization that isn't technologically savvy. So if you can't relate to these words, read on carefully. 
One way to reduce waste and save time is by adopting the Agile HR methodology. The Agile HR Approach measures your company's success in terms of several holistic parameters. These include innovation levels, retention, team management, and organizational goodwill. It helps you deliver value faster and focuses on capacity instead of speed. Using technology, especially cloud HR software show that you are adaptable and improve the efficiency of all HR responsibilities.
10. Promptly resolve employee queries
Just like customer service, internal queries are often repetitive in nature. Examples of queries include:
Q. What is my Wifi password?
Q. When was my company formed?
Q. How many leave balances do I have?
Q. When is the next company holiday, etc.?
Q. How do I reduce my income tax?
Modern tools such as Asanify allow employees to interactively query any HR policy document.  Because of COVID-19, most companies are operating remotely. So having a tool to answer employee queries promptly leads to improved employee morale. That way, you'll make news only for the good stuff!
11. Follow Fair and Transparent Practices
There is a reason why HR is the 'saviour' in a company. Ever have a problem or something going wrong? Run to HR! Since HR is such an integral part of a business, it is very important to follow fair practices. All your processes should be clearly defined with specific details. Employees must also be made aware of what happens when they file a complaint or get a raise. 
It is essential that your employees feel like they have a voice that is heard. FAQ chatbots are great ways of addressing concerns. Their interactive nature helps in answering common questions pertaining to your organization. Also, it is in your interest to solve small issues before they begin affecting performance.  As such, be empathetic and responsive to your employees' needs.
 Therefore, an overall openness is necessary to cultivate a transparent workplace ethic. Be more open to receiving feedback, define boundaries, and manage expectations. 
Conclusion
In conclusion, here's a quick recap of the key takeaways from this article:
Firstly, Employer Reputation has to be a goal in itself.
To Build and Improve employer reputation HR is responsible for well-planned and coordinated decisions.
HR responsibilities play a major role in maintaining a strong employer brand. 
Be effective in your recruitment and onboarding practices
Encourage collaboration between departments, be transparent in your communication when it comes to compliances and compensation.
Build strong relations with your teams by following fair principles and being considerate of their concerns. 
Lastly, HR is responsible for implementing the latest HR Technologies.
In other words, be innovative, empathetic, and honest in your work ethic and you'll see those applauds coming your way in no time!   
Not to be considered as tax, legal, financial or HR advice. Regulations change over time so please consult a lawyer, accountant  or Labour Law  expert for specific guidance.