Leave Policy is an essential policy document needed for your small business. In this post, I will help you draft a robust leave policy for your startup or small business. Today I cover the following.
Why Do You Need a Leave Policy in Your Company?
Imagine that you just joined a new company. You have been planning your next dream vacation for a while now. You're planning to take off but don't know how to apply and how many days of leave you're going to get? This causes confusion and may hurt employer reputation. Read on to know everything about your paid leave days, number and types of holidays & leaves, and everything related to the leave, time & attendance norms.
This is an elaborate document which outlines all possible procedures and protocols for the workforce to avail leaves. This set of rules is known as Leave Policy. As we know, employees are the most valuable asset of an organization.
Lack of a proper leave policy can lead to:
Unapproved absence of employees from duty.
Lower productivity.
Fall in productivity hours
Missing of important targets, etc.
These types of issues can be resolved with a proper Leave Policy for employees in the workplace.
For example, if an employee is on leave with no prior information, then his/her work suffers as the company is not prepared for the unexpected absence. But on similar terms, if an employee applies for leave in advance, then in such case the stakeholder are aware of it and the entire team can manage the work in employee absence so that there is no loss of productivity. Leave Policy, when implemented in the company, provides a common understanding between the employer and employee as to how leave can be taken during the tenure.
Finally, various leave reports are required for compliance purposes. You may need an HRMS to automatically generate them since manual process is time consuming.
A leave policy helps you in the following ways:
It defines the number of leaves your employees have.
The types of leaves that they are eligible for.
How can an employee apply for leaves.
With a leave policy, you can give your employees the assurance that you will provide them days off to:
Take care of any issues they have.
Take time off for vacation.
Recover from an illness.
Celebrate their festivals.
Deal with life events.
Simply take a break or relax.
When you're creating a hiring policy for your company, it is important that you include the leave policy in the document. Leave policy is extremely important so that the working professionals can understand the Dos and Don'ts while applying for leaves. Also, it is necessary for the employees to not misuse the benefits of paid days and holidays given by the company. It helps to maintain a balance between employee productivity/performance and their satisfaction.
Are you struggling with employees' falling productivity numbers and performance due to days off and tardiness? Ensure proper leave, time and leave management using Asanify Leave Management Software.
What is the purpose of a leave policy?
The purpose of leave policy for employees is to set up guidelines regarding:
when to avail leave,
the process to take leave with pay,
leave without pay,
leave of absence policy and so on.
Who is eligible for the leave policy?
The Leave policy is applicable to all the regular employees of the company.
What are the guidelines for leave policy?
Leave cannot be claimed as a matter of right. Any kind of leave can be also granted or refused depending upon the company demands.
Leave of absence from work without proper approval will call for disciplinary action.
The calendar year for leave is from January to December.
All leave record of the employees shall be maintained in HRMS tool.
Employees will be eligible for Earned Leave only after completion of probationary period. On confirmation Earned leave for the period of probation will also be credited to employees account.
A Maximum of 9 earned leave can be carried forward to next year.
An employee can also avail paid leave depending upon the leave balance available to employee. Also, unpaid leave can be availed when leave balance is exhausted and employee is in need of leave on approval from immediate manager, HOD and HR.
An employee shall not proceed on leave until unless leave has been approved by reporting manager.
Leave without approval will also be considered as leave without pay.
Weekends and any holiday lying between the sanctioned leave periods will be excluded and not be counted as leave in case of casual and earned leave.
Leave for coming year cannot be availed in the current year.
In case of planned leave, it is the responsibility of the employee to apply for leave in advance. However, in case of unplanned leave employee must regularize leave within 2 days of resuming duty.
Leave for the purpose of LTA should be earned leave. It cannot be a casual leave.
Cancellation of leave
Approved leave can also be cancelled depending upon the company's demand.
Once the leave is cancelled by the reporting manager, an automatic notification will reach to the employee and the HR.
Leave balance will be updated accordingly by HR.
Extension of leave
In case of extension of leave due to any unforeseen circumstances the employee must inform the HR in advance.
In case employee overstays without approval, it will be treated as absence from duty and disciplinary action will be taken against the employee.
Leave extended without permission will also be treated as a loss of pay.
Leave calculation on resignation/termination
In case, the employee has resigned from the services or on termination of employee, privilege leave will be calculated till the last working day of the employee and will be paid in full and final settlement of the employee.
How can you create your company's leave policy?
As a company, you also need to take a call on the kind of leave policy you want to implement on your employee. Usually, companies have 3 kinds of leave policies:
Fixed number of leaves that are also given annually and can be used at any time.
Set a number of leaves that are also gathered on a daily, weekly, or monthly basis.
An unlimited number of leaves that don't have any restrictions on the employee.
It's important to note that an unlimited number of leaves does not mean that employees can be absent from work all the time.
The must-have components of a leave policy include:
Different types of leaves that an employee can avail.
The set of rules for each type of leave.
Weekend leave policy.
List of holidays.
The rules in your leave policy must also be well-defined. Define the following in your leave policy:
1. Entitlement
The number of leaves an employee can take, how often they can take them and when can they take them.
2. Availing leave policy
How often an employee can avail leaves, also the limits on each type of leave, restrictions, etc.
3. Eligibility for leave policy
Which employee in the company is entitled to what type of leaves.
4. Approvals
When applied, who is responsible for approval and managing leave.
5. Carry forwards
The maximum number of leaves that an employee can carry forward into the next year, also the leave lapses, etc.
6. Club and cover
Rules for also clubbing and intervening weekends or holidays for longer leaves.
7. Encashment
The amount of money an employee can also receive in exchange for a period of leave not availed by them.
8. Additional Documentation
Rules for sick leave, maternity leave, etc.
Once you've decided on the kind of leave policy you want to set in place, it's important to document it.
Here are a few tips to help you set down a leave policy that are preferable for both you and your employees:
Your leave days must also account for the different kinds of leaves that your employees would need. These include: vacation days, national holidays, festival leaves, sick days, family and medical leave, pregnancy leave, leaves for disabilities, parental leave, personal leave, and so on.
If you also have a leave policy that gives employees an unlimited number of leaves, consider adding a clause that holds employees accountable.
Specify that employees need to document their work well to make it easier for someone else to take over, in case of an emergency.
What are the different Types of Leaves?
1. Sick Leave/Medical Leave
Sick leave is time off also given by the company to allow employees to recover from an illness and take care of their health. These leaves are also crucial to allow employees to get the rest they need without worrying about losing pay. It's important you also ask your employees to take the day off if they are sick.
Companies must also provide 15 days of sick leave in a year to their employees. However, the employers must also be flexible with their sick leaves and allow employees to take longer ones if they have severe health issues.
2. Casual leaves
Casual leave is taken by an employee for:
travel.
vacation.
rest.
family events.
Such leaves are given to allow the employee to take time off for any life events they have like traveling to another country or weddings they have to attend. Giving the employee paid casual leave will allow them to prioritize their private life when required. This also makes them feel appreciated in the company.
3. Public holiday
Public holidays are days that are given as leave by the government. Such holidays must also be observed by every institution— schools, banks, government offices, and even private companies.
Public holidays include:
Independence Day.
Memorial Day.
Labor Day.
Bank holidays.
Any nationally-recognized day like the death of a prominent leader of the country.
Include these leaves within your leave policy by also looking into the holidays that the government has mandated for the country.
4. Religious holidays
The employee places importance on religious holidays that they celebrate and would want a day off to spend time with their loved ones and celebrate the festival. Religious holidays include:
Christmas.
Eid, Easter.
Holi.
Yom Kippur, and so on.
It's important that you accommodate these holidays they have by providing them with the option to take leave on the day of the festival.
5. Maternity leave
From taking care of the newborn to recovering from the delivery, maternity leave is an important time for mothers. Ensure you have accommodated this type of leave in your leave policy to help employees to not worry about their work while they are busy with their newborn. Ideally, 14 weeks is a good amount of time to be given to the mother, allowing them to take care of their newborn for the first 3 months.
6. Paternity leave
Paternity leave is granted to:
fathers,
husbands or partners of a pregnant woman,
surrogate parent,
someone who adopted a child,
to take care of their newborns without any worry. Unlike maternity leaves, new fathers usually get 2 weeks of leave to take care of their child post-delivery.
7. Bereavement leave
Losing a loved one is an unavoidable circumstance and in such events, employees take abrupt leave. As HR, you need to have a bereavement leave policy that provides the employee with the time to grieve their loss, deal with any responsibilities they may have due to the death, and permit them to ask for a bereavement leave without any issue.
8. Compensatory leave
Employees who have clocked in more hours than they were required to can be eligible for compensatory days off. Ensure that any employee who has put more time in or come to work on days they were off (like Saturday) are given a compensatory day off.
Compensatory time-off must be automatically recorded within your backend and employees should be informed that they have an additional day of leave for the time they put in. More details about comp-off policy is given here: How to create a comp-off policy?
9. Sabbatical leave
To say it simply, sabbatical leaves are "a break from work" where employees can pursue interests they have or take time off for physical and mental health reasons. Unlike other leaves, sabbaticals are long leave periods, from six months to a year. Sabbaticals are commonly taken by employees at educational institutions where professors might need to take a break from their teaching role to do research on their project.
10. Unpaid Leave (or leave without pay)
If your employee has surpassed the number of leaves they were eligible for and are taking a leave that doesn't fall under special leaves like maternity or bereavement leave, they can still take a leave with a compensation cut. Any leaves taken in the year outside of the paid leaves will result in a pay cut for the employee. Ensure that you've clarified the number of leaves the employee has and told them how much pay is cut per leave day they take outside their eligible leaves.
11. Unlimited leave policy
As we move towards a time where there is an increase in the number of employers these days, there are chances that your workplace is likely to a flexible or 'unlimited' leave policy. The idea here is that the employees are free to take as much time off as you want, as long as you get the work done. It's a focus on producing great results, rather than just putting in the hours.
International companies like Netflix are differentiating themselves with an unlimited leave policy. Organizations like these are focusing on their employee's self-motivation rather than supervision.
Which are some additional Leave Management terms?
1. Loss Of Pay
When you don't have adequate leave balance and avail leaves, such leaves are beyond your 'paid leave' privileges and therefore you will not be paid salary for such excess leaves. These are termed as Loss of Pay (LOP) or Leave Without Pay (LWOP). For example, using procured leave without prior intimation or approval, or not providing medical certificates in case of sick leave as per policy. You will see that the salary you receive at the end of the month would be reduced due to 'LOP'.
2. Leave encashment
This implies you receive money in lieu of leave balance and is similar to claiming your credit card points for money. Usually, leave encashment happens just at two stages:
When you have excess leave balance beyond the limit as per your employment

policy.

When you resign from your employment.
What is leave accrual/ accrued leave?
When a new employee joins the company, their statutory entitlement to holiday automatically starts to build, or accrue.
This accrues even during:
probationary periods,
during periods of sick leave,
maternity leave,
paternity or adoption leave.
Over the course or a year a full-time employee will be entitled to 5-6 weeks holiday a year. Part-time members will be entitled to 5-6 weeks as well but this will depend on how many days they work.
Lots of employers use an accrual system to calculate how much an employee is owed in their first year working for them. Employees will accrue one twelfth of their annual leave each month so after three months they will have accrued a quarter of their leave.
How to calculate how much annual leave an employee has accrued?
Since an employee is usually entitled to 5.6 weeks of holiday, you multiply 5.6 by the number of days they work to get the amount of holiday owed.
For full-time this would be 28 days, for someone working three days a week this would be 16.8 days (rounded up to the nearest half day so 17).
Annual leave is accrued throughout the year at one twelfth a month but if an employee joins halfway through the company leave year, then they will be entitled to holiday from that point onwards.
For example, if they start July 1 they will be entitled to half the statutory leave so 14 days instead of 28.
Similarly, if an employee leaves six months through the leave year they will only be entitled to holiday accrued up to that point.
With Asanify, you can calculate the accrued leave without any hassle. Get started for free.
Which are the state wise rules regarding leave policy?
1. Karnataka leave policy
Every employee in an establishment shall be entitled to leave with wages and shall be allowed to avail such leave for the number of days calculated at the rate of one day for every twenty days work performed. Leave can be granted under these conditions:
Any day of lay-off, by agreement or contract as permissible under the standing order or for any other reasons beyond the employer's control.
In the case of female employee, maternity leave for any number of days not exceeding twelve weeks.
The leave earned in the year prior to that in which the leave is enjoyed.
These leaves will be considered to be days on which the employee has worked in an establishment for the purposes of computation of leave under this section, but the employee shall not earn leave for that period.
2. Maharashtra leave policy
The Amendment Act now entitles every worker to casual leave of 8 days in a year.
The workers can accumulate earned leave up to a maximum of 45 days.
Also, every worker who has worked for a period of 240 days or more in a calendar year shall be allowed paid leave for a number of days calculated at the rate of one day for every twenty days of work performed during the previous year.
A worker shall also be entitled to 8 paid festival holidays in a calendar year, namely:
26th January
1st May
15th August
2nd October, and
four such other festival holidays as may be agreed to between the employer and the workers as per the nature of business, before the commencement of the year.
Types of leaves in Maharashtra and their entitlement:
Sick leave- No provision
Casual leave- 8 days
Earned/ Privileged leave-
5 Days (for every 60 days worked) – Maximum 45 carry forward days
18 Days (for every 240 days worked) – Maximum 45 carry forward days
3. Tamil Nadu leave policy
Every person employed in any establishment shall be entitled, after twelve months continuous service, to holidays with wages for a period of 12 days, in the subsequent period of twelve months; provided that such holidays with wages may be accumulated up to a maximum of 24 days.
Every person employed in any establishment shall also be entitled during his first twelve months of continuous service after the commencement of this Act, and during every subsequent twelve months of such service.
To leave with wages for a period not exceeding twelve days, on the ground of any sickness incurred or accident sustained by him.
To casual leave with wages for a period not exceeding twelve days on any reasonable ground.
Types of leave in Tamil Nadu and entitlement:
Casual leave- 12 days (during the first twelve months and further continuous service)
Sick leave- 12 days (during the first twelve months and further continuous service)
Earned / Privileged Leave- 12 days (after twelve months of continuous service)
4. Leave policy in Telangana
Every employee who has served for a period of 240 days or more during a continuous period of 12 months in any establishment shall be entitled during the subsequent period of 12 months, to leave with wages for a period of 15 days, provided that such leave with wages may be accumulated up to a maximum period of 60 days
Every employee in any establishment shall also be entitled during his first 12 months of continuous service as well as during each subsequent 12 months of service
Sick leave with wages for a period not exceeding 12 days on the ground of any sickness or accident
Casual leave with wages for a period not exceeding 12 days on any reasonable ground.
What are Leave Management Systems and Process?
Leaves are tracked like a bank account. Periodically, leaves of different categories are credited to your account as per the company's policy. Whenever you apply for any leave, it is similar to a withdrawal from your account, and it reduces your leave balance. 
Generally, employers define a leave year (either financial year, i.e., April to March or calendar year). If you don't avail your leaves in the same year, the balance would be usually carried forward for use in the coming year. There might be caps on such carry forward, meaning you can't carry forward leaves beyond that limit.  The excess leaves in your balance beyond the cap would either be paid  or would get lapsed. 
Relevant to the technology era that we live in, most employers now have a leave management software in place for their employees. Such a system makes it easier for employees aware on the leave policies, and automates the job of day-to-day calculations and data updating for HR.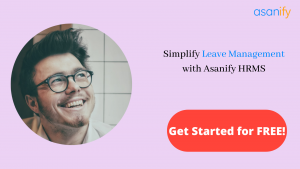 How can you manage your employees leave using HRMS?
Integrated leave management system with your HR software/ HRMS keeps track of employee leave boundaries. The stored data can be used during payroll for accuracy. Employee leave tracking system on HR software makes attendance and leave management easier for the HR department.
What are the Benefits of using Leave Management System?
Some of the benefits of using a leave management systems/HRMS are:
Tracking employee leaves.
No mistakes in payroll.
Accurate attendance records.
No more spreadsheets.
Human errors are reduced.
Real-time visibility.
Improves communication.
Easy access to data.
How leave is calculated using HR software?
Leave tracking software tracks and records the employee attendance and leaves taken throughout the year. The software then calculates the number of leaves that are remaining and leave credits accordingly. HR software makes leave management easier, mistake-proof and seamless.
FAQ
What is the purpose of leave policy?
The purpose of leave policy is to regulate all forms of leave that are accrued and due to employees as a benefit, and to outline procedures to be followed for the granting and taking of such a leave. This policy provisions apply to all employees.
Is unlimited leave policy good?
Employees Gain Trust and Flexibility.
The benefit to unlimited leaves for employees is the trust they'll gain with employers.
For unlimited leave policy to be a success, employers must extend a level of trust to their employees.
Offering unlimited leaves can boost those trust levels and improve employee relations.
Not to be considered as tax, legal, financial or HR advice. Regulations change over time so please consult a lawyer, accountant  or Labour Law  expert for specific guidance.